If you've recently got married it's not going to be long before you've got a wedding anniversary to celebrate with your spouse. One that's actually going to be the first of many. You might be wondering about the best way to mark such an occasion, which is why it's good news that you've found your way to this site. Our aim is to look at the idea of wedding anniversaries in general, as well as looking at some of the traditions that are followed. We'll also be looking at the themes that are associated with each anniversary and giving you some worthwhile suggestions for wedding anniversary gifts for her and for him.
If you're one half of a married couple, or have friends or family that are looking to celebrate an upcoming wedding anniversary keep reading. We're here to offer some friendly advice and give you some great wedding anniversary gift ideas.
Wedding anniversaries have been a traditional celebration for centuries. Marking each passing year in a special way is part of keeping your relationship on the up and up. We're not saying that fanfares and trumpets are required every year, but there are some significant milestones that are worthy of a little extra effort. At the very least there should be an exchanging of gifts.
You may have heard that certain anniversary years have their own special theme, for example silver to mark twenty five years, ruby to mark forty, and gold for a fiftieth anniversary. There are actually lots more themes for all the years in between. Let's take a look at the history of wedding anniversary themes, before looking at the themes in more detail.
The history of wedding anniversary themes
The origin of wedding anniversary celebrations is a little hazy, and there are lots of experts who still can't agree. Some say that it comes from the Holy Roman Empire, when a husband crowned his wife with a garland made of silver to celebrate a 25th anniversary and gold when they were fortunate enough to reach their fiftieth wedding anniversary. Other experts say that the tradition comes from medieval Germany, when friends of the couple gave the wife a garland of silver or gold. There are a larger number of people who say that the modern ritual of exchanging gifts for a wedding anniversary first became popular in Victorian times. Prior to 1937, only the major milestones had an associated theme. It was the 5th, 10th, 15th, 20th, 25th and so on.


Pendant & Earrings
An elegant matching set
Crafted from genuine blue miniature rose petals and pure 24 karat gold.
Decorated with 30 brilliant synthetic diamonds.
Fast dispatch and express delivery for free.
Price: $149.00
gold rose
Gold-Dipped Natural Rose
It perfectly combines the beauty of a natural rose and the majesty of fine 24K gold.
Presented in an exquisite leather case.
It comes with a certificate of authenticity.
Price: $179.00
gold cards
Gold-Dipped Poker Cards
A playable deck of poker cards dipped in 24 karat gold.
Presented in an elegant high quality case made from cherry-wood.
The deck is produced to tournament grade standards.
Price: $199.00
In 1937, The American National Retail Jeweler Association introduced a more comprehensive list for wedding anniversary themes, and this is the one that is commonly followed right up to today. Each of the themes has been chosen for a special reason and represents the various stages that you pass through in your marriage. When it comes to the best anniversary gifts for her, your special lady wife, you can use the list for inspiration. Let's share the actual list of wedding anniversary themes by year. This is the list that most people consider to be traditional, and we've decided to compile a list that encompasses both UK and US traditions.
Traditional List of Anniversary Gift Themes by Year
Year 1 – Paper
Year 2 – Cotton
Year 3 – Leather
Year 4 – Linen/ Silk
Year 5 – Wood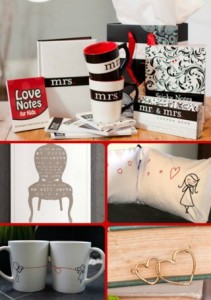 Year 6 – Iron
Year 7 – Copper/ Wool
Year 8 – Bronze
Year 9 – Pottery/ China
Year 10 – Tin/ Aluminum
Year 11 – Steel
Year 12 – Silk/ Fine linen
Year 13 – Lace
Year 14 – Ivory
Year 15 – China/ Crystal
Year 20 – China
Year 25 – Silver
Year 30 – Pearl
Year 35 – Coral
Year 40 – Ruby
Year 45 – Sapphire
Year 50 – Gold
Year 55 – Emerald
Year 60 – Diamond
Year 65 – Blue sapphire
Year 70 – Platinum
Year 80 – Oak
Year 85 – Wine
Year 90 – Stone
As you can see the strength and durability of the materials increases with each passing year. Much like the increasing strength and endurance of a successful marriage. If you're not sure that this is the list you want to follow, there is always the modern list that brings the themes bang up to date, with some modern alternatives for some of the more unusual themes. It's completely up to you which list you follow, or whether you decide to buck the trend and go with your own wedding anniversary gifts by year.
Wedding anniversary gifts by year – the modern alternatives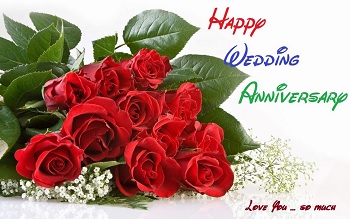 The modern list of anniversary themes was compiled by the librarians at Chicago Public Library in 2000. There are gift suggestions for every year, right up to the fiftieth anniversary, after which it becomes a little more spread out. There should be no problem finding a gift that matches the relevant theme, should you decide to follow the modern list of anniversary gifts.
1st – Clocks
2nd – China
3rd – Crystal/Glass
4th – Appliances
5th – Silverware
6th – Wood Objects
7th – Desk sets
8th – Linen, Lace
9th – Leather Goods
10th – Diamond
11th – Fashion jewelry
12th – Pearls, Colored gems
13th – Textiles
14th – Gold jewelry
15th – Watches
16th – Silver holloware
17th – Furniture
18th – Porcelain
19th – Bronze
20th – Platinum
21st – Brass, Nickel
22nd – Copper
23rd – Silver plate
24th – Musical instruments
25th – Sterling Silver
26th – Original pictures
27th – Sculpture
28th – Orchids
29th – New furniture
30th – Diamond
31st – Timepieces
32nd – Conveyances (e.g., automobiles)
33rd – Amethyst
34th – Opal
35th – Jade
36th – Bone china
37th – Alabaster
38th – Beryl, Tourmaline
39th – Lace
40th – Ruby
41st – Land
42nd – Improved real estate
43rd – Travel
44th – Groceries
45th – Sapphire
46th – Original poetry tribute
47th – Books
48th – Optical goods (e.g., telescope, microscope)
49th – Luxuries, any kind
50th – Gold
55th – Emerald
60th – Diamond
80th – Diamond, Pearl
85th – Diamond, Sapphire
90th – Diamond, Emerald
95th – Diamond, Ruby
100th – 10-carat Diamond


Is there a rule to follow when deciding whether to choose modern or traditional wedding anniversary themes?
The choice is yours completely, there is no hard and fast rule to follow. You can even choose to throw the lists away and make up your own anniversary gift ideas. You might be the kind of person who loves to follow tradition or need some help in finding the right wedding anniversary gift. In which case the suggestions we've already listed will come in very handy. If you're happy to buck the trend then your gift options are endless. But what matters most is the couple that you're buying the wedding anniversary gift for. After all, it's their anniversary, so their preferences are what should lead you.
What is a wedding anniversary? Quite simply it is the celebration of two people living in harmony for another year. They've likely been through some ups and downs and still remained true to each other and their union, so what better reason to have a celebration? When thinking about wedding anniversary gifts for him and for her their feelings should be taken into consideration, not just what you want. Time to look at a few suggestions, whether you're buying a wedding anniversary gift for your spouse, friends or relatives.
Wedding anniversary gifts for her
Don't get yourself in a tangle if you're looking for the best anniversary gifts for your wife. You might think you've been set quite a challenge, but it really isn't that difficult. You've been married now for a number of years, so you should know your beloved better than anyone. A great fall back gift is a bouquet of flowers, to which you can always add chocolates, but surely you've got a bit more imagination than that. Jewelry, homeware, clothes, accessories and trinkets can put you in a good position when it comes to wedding anniversary gifts for her. Stay tuned because there are going to be lots more suggestions on some of the following pages.
Wedding anniversary gifts for him
It's not just the men that find gift choosing a challenge, women sometimes have problems too. When it comes to wedding anniversary gifts for him however, it's been shown that men on the whole prefer a gift that is practical rather than frivolous. Which means that this year your wedding anniversary gift shouldn't be a problem. Think about the things your husband loves doing and find a gift that suits. Gifts that are related to one of his hobbies are always going to be welcome, along with gifts that he can use everyday. As with the ladies, we're going to be offering up lots more suggestions for the man in your life.
Best anniversary gifts for her, if you've left it till the last-minute
We hope that you won't leave your gift choosing till the last-minute, but there's always someone who gets caught out. It seemed like your anniversary was weeks away, so you just put the problem on the back burner, but before you know it your anniversary will be just round the corner. So what are your options if you've left your gift buying until the day before your anniversary?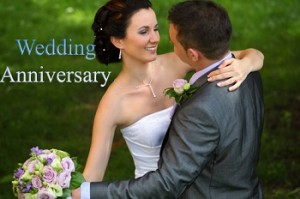 Buy tickets for a show
There are a number of online ticket sites where you can purchase tickets for almost any concert, show, festival or sporting event. Many of these sites have the option of printing your ticket, rather than waiting for it to come in the post. So find an event that you know your partner will enjoy and book those tickets. Why not keep it surprise by taking her out for a drive and then arriving at your chosen destination, just in time for the concert?
Take her out for dinner or cook a gourmet meal at home
Arrange a babysitter for the evening and take her out to dinner, or cook a gourmet meal for two at home. If you decide to take her out then book a table at her favourite restaurant, or one she's been longing to visit.
Print your own anniversary picture
There are plenty of sites where you can download pictures, prints, quotes and photos. All that's needed is a printer and a cute frame to present your gift in.
We wish you all the best for your next wedding anniversary, and you'll be pleased to know that there are going to be lots more suggestions.