The traditional theme for 1 year anniversary gifts is paper. If you're about to celebrate one year of married life together or know a couple who are then gift ideas relating to paper are numerous. Why not buy tickets to an upcoming show? Give your spouse a voucher that entitles them to a spa day, frame a meaningful print or photograph, compile a photo or scrap album that charts your first year together, or find a limited edition of their all time favourite book. All will work well if you decide to use the traditional list of anniversary themes. The modern theme for a first wedding anniversary is a clock, which is pretty much self explanatory.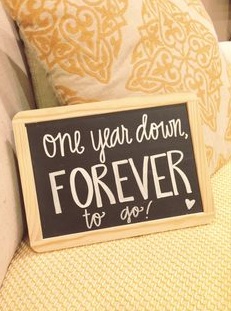 Gifts for a one year wedding anniversary are definitely worth making special but many consider finding the right gift a bit of a challenge. After all you are both still learning about each other's preferences and taste. However, don't let the scale of the challenge put you off, as this is the first of many anniversaries, and worth getting right.
A great way to start this special day would be to enjoy breakfast in bed together, may be even with a glass of champagne. Provided you aren't planning to go to work that is. For an extra special touch why not add a single red rose to the breakfast tray? There aren't many that will fail to be impressed with such a sweet gesture. This may be the start of your life together but that is all the more reason to show your wife how much you care. Lavish her with gifts throughout the day and you're already on a winning streak. For those of you who are a little confused about where to start let's look at some options.


Gold-Dipped Natural Rose
It perfectly combines the beauty of a natural rose and the majesty of fine 24K gold.
Presented in an exquisite leather case.
It comes with a certificate of authenticity.
Price: $179.00

Silver-Dipped Natural Rose
A real rose with a fine coating of pure silver.
The silver finish is bright and lustrous.
The rose is ideal to express your everlasting love.
Price: $179.00

Gold-Dipped Poker Cards
A playable deck of poker cards dipped in 24 karat gold.
Presented in an elegant high quality case made from cherry-wood.
The deck is produced to tournament grade standards.
Price: $199.00
Best one year anniversary gifts
An anniversary newspaper – First anniversary gifts are the perfect opportunity to start your own tradition, and a great place to start is buying a newspaper on your anniversary date. Repeat every year and you'll have a growing collection of memories that you can look back on and see how far you're both come.
Tickets to a show – Why not take your spouse out for the evening and enjoy a top show? It could be a musical, theatre or comedy show, depending on your own particular taste of course. You also have the option of buying train tickets to your wife's favourite destination, or if you fancy being flash with your 1 year anniversary gifts why not buy airplane tickets to an exotic location?
A romantic poem – You may not be a budding Shakespeare but there's plenty of value in trying to write a love poem for your special lady. If you just can't seem to find the right words then why not see if you can find some inspiration online.
A book – Maybe your partner loves reading, in which case a special edition of her book might be just what you're looking for. If you're not sure about her favourite author then take a look at her current collection, or take a peek at her eReader.
A poster of your wedding day – There will always be a special photograph of your wedding day that perfectly captures the feeling of the occasion. Why not get it blown up to poster size and put it on the wall?
A personalized dinner invitation – There are going to be plenty of opportunities to take your wife out to dinner, but make this occasion all the more memorable with a personalized invitation. Make it yourself, or print it off from an online site. Even if you plan to enjoy dinner at home, an invitation is going to make it all the more special.
A map – 1st anniversary gifts for a husband or wife could take the form of a map that can be used to chart their travels. As well as the places you've already been it could be used to mark the places you both want visit in the future.
A journal or diary – This is one of many great 1st anniversary gifts for her, as it can be filled with noteworthy photographs, messages and quotes that will serve to remind her of the love you both share.
A packet of seeds – If you've only been living together for 12 months it's highly likely that your garden is still in the early stages of planning. So why not give each some packets of seeds so you can remember your first anniversary for longer and contribute to the beauty of your new garden?
Unusual 1st anniversary gifts for your husband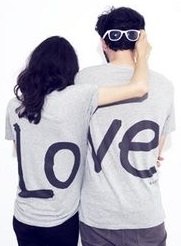 There are always new gift ideas coming onto the market and one of the most fun and unusual is the idea of a boudoir photo shoot. You're going to need to be a bit daring and not afraid to show off your beauty, and it may not be the kind of photograph you want hanging in your living room, but there's nothing wrong with a display in your bedroom. Many professional photographers now offer this kind of service, but you may prefer to use a female photographer. Find the right clothes to wear and perfect your pout for a very sexy first year anniversary gift for your husband.
Special 1st anniversary gifts for her
When it comes to buying one year anniversary gifts for that special lady in your life see if you can find a gift that's romantic and meaningful. Your first anniversary gifts could be a small token of your affection or a much bigger gesture, it's entirely up to you. One perfect solution is a gift from Eternity Rose. A single bloom is picked at the height of its beauty and preserved for ever by dipping it in gold, silver or platinum. Add an engraving to the stem and you've hit a winner.
For those of you about to celebrate your first wedding anniversary we wish you all the best for now and the future. Stay tuned for more anniversary gift ideas as each year passes.