Are you looking for a terrific 5 year anniversary gift for your spouse? Are you struggling with the toss up between traditional and modern anniversary themes? For the last four years you've been on a bit of a roll when it comes to choosing anniversary gifts but this year you seem to have run out of ideas. Not surprising really when you consider the theme. Wood, who ever thought that would be a good anniversary gift idea? Not a lot of gifts come to mind when you're looking for something made of wood, unless you start to think a little out of the box that is. You might be thinking of a wooden table and chairs, wooden picture frame or chopping board, but these are 5 year anniversary gift ideas unlikely to impress your lady wife. So why don't we help with a few helpful suggestions.
5 year wedding anniversary gifts for her – wood or silverware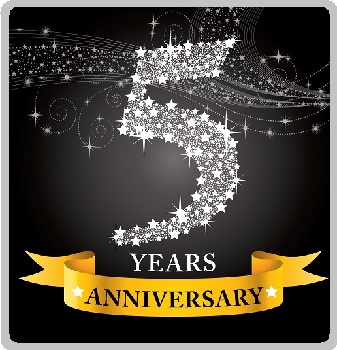 You might be pleased to known that the modern list of themes does have an alternative, when it comes to 5 year wedding anniversary gifts for her. On the other hand you might consider silverware just as uninspiring. So why not find a gift that is made of rose quartz, the gemstone associated with a 5th anniversary? Or you could take inspiration from the 5 year anniversary flower, the daisy. When it comes to anniversaries there are lots of ideas available but there's nothing wrong with choosing your own path. The lists of themes are only meant to be used for suggestions, there is nothing set in stone that says you must use them. You might be wondering why themes are used to mark certain anniversaries so let's see if we can help you understand the significance of silverware and wood.
The significance of wood as a 5 year wedding anniversary theme
When you think of wood you imagine a material that is strong and durable, qualities that are important after 5 years of marriage. Historically, trees signified wisdom and strength. By the time a couple has reached their fifth wedding anniversary they should have deep and strong roots, much like a sturdy maple tree. They will have gained a good understanding of each other because of all the experiences they've shared. After 5 years they should also have learned one of the most important qualities for a successful relationship – that of forgiveness.
Why is silverware used for the modern five year wedding anniversary theme?
Silverware was chosen because it is said that it reminds couples of the connection that's been established while eating together. After five years of being married that is more than likely to include children as well.
Now you understand why the themes were chosen and their significance let's give you some ideas on the kind of 5 year anniversary gifts available.


An Elegant Rose Earrings
Made from genuine miniature blue rose petals.
Handcrafted and trimmed with 24k gold.
Gold ringlet studded with 16 synthetic diamonds.
Price: $79.00

Light-Green Natural Rose
Real light-green rose glazed and trimmed in pure 24k gold.
This rose is ultimate symbol of lasting beauty and romance.
Fast dispatch and express delivery.
Price: $169.00

Silver-Dipped Natural Rose
A real rose with a fine coating of pure silver.
The silver finish is bright and lustrous.
The rose is ideal to express your everlasting love.
Price: $179.00
A 5 year anniversary gift for him or for her made from wood
A wooden keepsake box – Your beautiful wife will be able to fill this box with memories, either in the form of photographs, handwritten notes, trinkets, tickets or any other kind of momento.
A wooden picture frame – Fill the frame with a photograph of the two of you and this will be a perfect 5 year anniversary gift. Wooden picture frames are available in a variety of styles, plain or more fancy, depending on which your wife would prefer.
A clock – Why not buy your wife a grandfather clock to grace the hallway? Or maybe something a little smaller to sit on the mantelpiece?
Wooden jewellery – You might be surprised to know that there are some very attractive items of jewellery available made of wood: pendants, bracelets, earrings and even cufflinks.

Personalized planter – If your wife has green fingers then give her a planter that's been personalized with her name or the date of your wedding. She'll be able to fill it with beautiful plants and have a constant reminder of your fifth wedding anniversary, and how thoughtful you were with your 5 year anniversary gift ideas.
Organizer tray – Is your husband the kind of man that can never find his keys? Does he have pockets filled with loose change? Give him a place to keep these things safe with the gift of a wooden organizer tray.
Personalized keyring – This is your chance to give him a gentle reminder of your wedding anniversary date. He'll never have the excuse that he forgot.
Garden shed – Treat the gardener in your life to a new garden shed. If anyone ever calls and asks where he is you know he'll be at the bottom of the garden 'pottering'.
A tree for the garden – This is a 5 year anniversary gift idea that can be given to a couple, as it's a gift that can be shared. They'll be able to care for the tree and watch it grow, much the same as their marriage.
Ping pong table – If you've allowed your husband to have his own man-cave this gift will be the perfect addition.
Chess set – If you're still a little reticent to let him have his own space because you're happy that he shares yours, then give him a smaller gift such as a chess set. Made of wood of course.
Still a little stumped about what to give your husband or wife for a fifth wedding anniversary? Let's offer up one more suggestion.
A 5 year anniversary gift for him or for her – Say it with flowers
Hang on a minute we can hear some of you cry – flowers for a husband, where's the thought in that? There are actually a growing number of men that would love to receive flowers as an anniversary gift. We've already mentioned that the flower most associated with such an anniversary is the daisy, so why not a living plant for the garden? The daisy has been chosen because of its structure. The yellow centre represents the bond between a married couple and all experiences they've shared. A daisy's petals are delicate but strong which symbolizes how a married couples feelings grow.
So you've notched another five years on the bed post and hopefully we've helped you find the perfect gift, so bookmark our site and keep coming back for more useful wedding anniversary gift ideas.