Last year, your loved ones reached that huge milestone of their golden wedding anniversary, and no doubt you helped them to celebrate in style. So, it is no wonder that the following year's anniversary is often a bit of an anti-climax. The 51st wedding anniversary may not be a key milestone, but it is still a major event in the lives of your friends or relatives. They have now entered their sixth decade of married life and have been together for more than half a century – this is an achievement to be lauded and praised as very few couples enjoy such a long and successful union. Make the day one to remember by taking this opportunity to remind the couple of how important they are in the lives of all around them, and convey a message of esteem and appreciation by presenting them with a gift that reflects the precious nature of their enduring marriage. Take inspiration from these 51st wedding anniversary gift ideas and create a present that is special and memorable, making a truly significant token to mark the day.
Traditional Ideas for 51st Anniversary Gifts
While last year's 50th anniversary, marking a half century of marriage, was celebrated with the giving and receiving of golden gifts as is customary all over the world, the 51st anniversary does not have such a well known theme. Even today, we tend to focus on the major milestone years in a couple's lives, which results in us not giving the due attention and respect to the years in between. Yet, while the lists created in the 1920s only highlighted the first decade and then every fifth year as a significant occasion, in later years, new contemporary lists were devised which linked a material or theme to every single marital year. Although many of these modern themes are not well known, they are still there to be found for those who do their research, and choosing a gift which reflects these themes is one of the best ways to demonstrate a deeper level of thought and effort which has been put into choosing a gift that is entirely perfect. The material which was chosen to represent the 51 year anniversary gift was blue sapphire, and if you wish to incorporate this into your loved ones' present, you will be selecting something with a symbolism that will make the gift even more memorable.

The Traditions of Blue Sapphire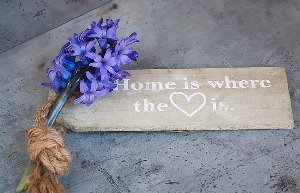 The word sapphire actually comes from the ancient Greek words for blue stone, and although sapphires actually come in several different colours, it is the blue variety that is customarily given as a fifty first anniversary gift. Although sapphires can be produced synthetically today, they are naturally found in rock formations and by searching through sediments in a number of countries worldwide including China, Australia, Sri Lanka and North America. Primarily used for decorative and ornamental purposes, they actually have a number of other more unusual uses because of their extreme hardness. Some of their more unusual uses include being used in scientific instruments, to make highly durable windows and in watch crystals. Blue sapphires have a number of symbolic meanings which are significant when they are given as a fifty one year anniversary gift. Known as the stone of wisdom, in the past they were believed to protect the wearer from harm and to bestow good fortune upon the recipient. It is also famously a stone of love and commitment, making them an ideal token to represent the long lasting nature of the couple's marriage.
Blue Sapphire 51 Year Anniversary Gifts
Blue sapphires come in all shapes and sizes and in a variety of different settings. This makes it easy for you to find the perfect piece of blue sapphire jewellery to give your loved ones as a wonderful and appropriate 51st wedding anniversary gift. Choose from either a luxurious gold or stylish silver setting, and opt for either a pretty pendant, pair of beautiful earrings or an elegant bracelet as an ideal 51st anniversary gift for her, or a pair of sophisticated sapphire cufflinks as a perfect 51 year anniversary gift for him. Perhaps you would prefer to go with a modern twist on the traditional theme? Then why not give a contemporary high quality watch, made with blue sapphire glass? Some of the top brand designer watches are made using this hard wearing, super-strong type of glass and represent a luxurious and long lasting 51st anniversary gift for your loved ones. One perfect example is the new and cutting edge Apple Watch which uses sapphire crystal to protect its display.
Blue Themed Gifts for the 51st Anniversary Year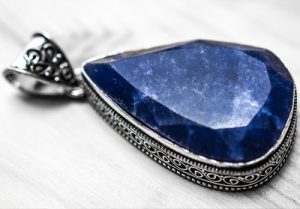 As blue sapphire is the traditional theme for this marital year, but if your budget cannot stretch to such an expensive gift for your loved ones, why not go for a blue theme instead? This opens up the field widely so that you can choose from an enormous range of gifts to suit the recipients' tastes. If they love fashion, why not go for some stylish blue accessories or clothing items? If they love flowers, why not choose some magnificent blue blossoms to make up a beautiful bouquet? There are many wonderful blue varieties to select such as hyacinths, hydrangeas, irises and lobelias which will make an impressive display to brighten the couple's day. If the couple love elegant home décor, why not choose a stunning blue decorative item to adorn their home? A blue vase, ornament or piece of wall art would be perfect. Why not combine the beauty of a blue flower with the luxuriousness of an ornament by choosing a blue glazed Eternity Rose? Each one of a kind artwork is produced by skilled artists from a genuine hand picked natural rose blossom. Each flower is glazed to preserve its splendour and then trimmed with pure 24 karat gold resulting in an exquisite and beautiful gift for your loved ones.