4 years = 48 months = 1,460 days = 35,040 hours – quite a few significant numbers when you come to think that's how long you've been married. So how are you planning to celebrate such a momentous occasion? By buying each other a 4th wedding anniversary gift we hope.
The tradition of celebrating wedding anniversaries goes back hundreds of years. While way back in history it may have only been the more significant milestones that were marked by the exchanging of gifts, it has become more popular nowadays to mark every passing year. And a large number of them have particular anniversary themes that can be used to help in choosing appropriate gifts.
The themes for a four year wedding anniversary gift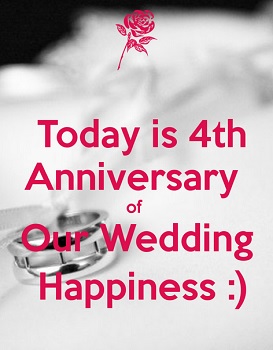 When it comes to celebrating a wedding anniversary it can be marked in a number of different ways. The most obvious being the giving and receiving of gifts. Most commonly it is the happy couple who choose to mark their special day in this way, but sometimes family and friends want to take part as well. It's a way of acknowledging the achievement of another year of married life and to celebrate the continued commitment and love they feel for each other.
The traditional themes for a 4th anniversary are linen and silk, in the US, and fruit and flowers in the UK. Quite a few options there if you're looking for a 4 year anniversary gift. The modern theme is to give electrical appliances, which are certain to be very useful but not really very inspiring or romantic.
There is also an anniversary flower – some say it's the hydrangea, while some say it's the geranium. You might also be interested in the 4th anniversary gemstone, which is a blue topaz.
So there you have it. Heaps of themes you can choose to go with, or feel free to find your own.
Wedding anniversary gift giving – is it really necessary?
If you're a bit of a cynic you might be thinking that giving gifts for a wedding anniversary is one big conspiracy by the big retailers. While we'll happily agree that gifts for wedding anniversaries have become big business, the tradition has been taking place for years. It may not have been every passing year that was celebrated but it was certainly the more significant ones.
We've managed to take the tradition one step further by marking every passing year with a gift, but you don't have to feel pressurized into buying a gift every year. Sometimes those romantic gestures speak far louder than any gift could, so mix and match as you both see fit.
And what's so wrong with giving a gift to your wife or husband? Not much in our book, as there are far too few opportunities to tell each other how much in love you are. Giving gifts to a person you love also holds a feel good factor that shouldn't be ignored either. There's nothing quite like the feeling you get when your gift brings a tear to the recipient's eye.
How about we share some of our suggestions – not just for silk anniversary gifts but the alternatives as well.

Pendant & Earrings
An elegant matching set
Crafted from genuine blue miniature rose petals and pure 24 karat gold.
Decorated with 30 brilliant synthetic diamonds.
Fast dispatch and express delivery for free.
Price: $149.00
gold rose
Gold-Dipped Natural Rose
It perfectly combines the beauty of a natural rose and the majesty of fine 24K gold.
Presented in an exquisite leather case.
It comes with a certificate of authenticity.
Price: $179.00
gold cards
Gold-Dipped Poker Cards
A playable deck of poker cards dipped in 24 karat gold.
Presented in an elegant high quality case made from cherry-wood.
The deck is produced to tournament grade standards.
Price: $199.00
Choose a traditional 4 year anniversary gift
An arrangement of fruit – This could be used to combine the themes of fruit and flowers. A tastefully arranged bouquet of fruit, waiting for your loved one to eat.
Flowers, fruits, or seeds for the garden – Spend the day with your beloved sorting out your garden. You'll have endless years ahead enjoying their beauty and plentiful bounty.
Bath products – Why not pick out a selection of fruity and flowery scented bath products? And then run your wife a bath, you could always jump in too.
Strawberries dipped in chocolate – The perfect accompaniment to your anniversary dinner or for breakfast in bed.
Silk lingerie – Silk anniversary gifts that will be romantic and sensual. Why not treat yourself to a pair of silk boxers?
Choose a modern 4th wedding anniversary gift
We're not talking a dishwasher, washing machine, cooker or vacuum cleaner here. This is your 4th wedding anniversary so your gift should be far more thoughtful than that. How about:
Coffee machine/ cappuccino maker/ juicer – The perfect way to start your day with a freshly brewed coffee or freshly squeezed glass of fruit juice.
Fondue set – Use this appliance to make your evening sensual and romantic.
Waffle maker – You could use this to make your wife breakfast in bed.
The latest grill – It's always a good idea to give your husband the opportunity to excel in the kitchen.
We've already mentioned that it's not essential to buy an anniversary gift every year so how about trying some romantic gestures?


Romantic ideas for your fourth wedding anniversary
Why not watch your wedding video and relive the day all over again? Take a look through some of your old photographs and reminisce days gone by.
Rather than going out for dinner, cook a gourmet meal together at home. Fill the room with flowers from your garden and light some scented candles.
Give your wife four single roses, preferably red of course.
Plan a movie night and watch four of your favourite films curled up on the couch.
You might be thinking that finding the perfect 4th wedding anniversary gift is going to be quite a challenge. However, you really shouldn't think so. There are so many different options that will be suitable it'll picking one of them that's going to be the problem. How about you buy her 4 gifts instead?
It's not all about the gifts though, so don't forget to spend the day together doing something you both enjoy. Your anniversary is far too special an occasion to be spending it at work. Take the day off and enjoy each others company all day. We wish everyone of you a very happy 4th anniversary, with plenty more to come. Stay tuned and we'll keep you well supplied with ideas for suitable anniversary presents so that every year can be special.