One year away from the quarter century, it can be easy to overlook the 24th wedding anniversary, yet don't miss out on the opportunity to show your loved ones that you care, whether that be by giving a traditional, floral or gemstone gift. The 24th year of marriage may not have a well known material or symbol associated with it, but there are till several themes running through this anniversary year that you can incorporate into your choice of thoughtful and memorable gift.
Taking the time to choose something special for your loved ones is the ideal way to convey your message of esteem and appreciation to your friends or relatives at this important time, in the lead up to the silver wedding anniversary next year. Mix and match from these exciting suggestions or simply choose the one that suits the recipients best to help them to celebrate their 24th anniversary in style.
If Music be the Food of Love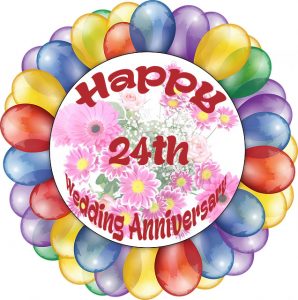 Sometimes, the 24th anniversary is known as the instruments anniversary because its traditional theme is musical instruments. An unusual idea for a loved ones' present, it is still quite an exciting suggestion and there are many ways in which you can incorporate it into your 24 year anniversary gift choice.
Of course, you could always take the theme at face value and choose an instrument for your loved ones – perhaps a piano for their home, or a smaller more personal instrument like a flute or guitar. If there is an instrument that the recipients have always expressed an interest in learning, this could be the ideal time to give them their chosen instrument as a gift.
Music lessons would be an appropriate gift for this anniversary year, especially for a loved one who has had a guitar, violin or clarinet lying around their home for years but has never got around to learning to play. Even if your loved ones aren't interested in learning an instrument, they may still like to receive one as a decorative gift – an antique violin for example to display on the wall.
An instrument themed artwork or sculpture would be another wonderful idea that captures the essence of the traditional twenty fourth wedding anniversary gift. Why not arrange for the happy couple to attend an orchestral concert where they can hear many instruments at play, or even use that most obvious of musical instruments that we all possess, the voice, at a private recording session, singing lesson or specially arranged karaoke night? If you would prefer to go with a more modern twist on the traditional instruments theme, you could choose a book of sheet music from the couple's favourite musical, a copy of their favourite movie soundtrack or even the song lyrics of a special song, framed and beautifully presented as a long lasting memento of this happy occasion.
You may even want to consider giving the lucky couple a set of Bluetooth speakers, a new docking station or you might even want to go retro and opt for a stylish vinyl record player as a gift that will last for years, bringing you to mind every time their favourite song is played.
Selecting Jewellery as a 24 Year Anniversary Gift
Pendant & Earrings
An elegant matching set
Crafted from genuine blue miniature rose petals and pure 24 karat gold.
Decorated with 30 brilliant synthetic diamonds.
Fast dispatch and express delivery for free.
Price: $149.00
gold rose
Gold-Dipped Natural Rose
It perfectly combines the beauty of a natural rose and the majesty of fine 24K gold.
Presented in an exquisite leather case.
It comes with a certificate of authenticity.
Price: $179.00
gold cards
Gold-Dipped Poker Cards
A playable deck of poker cards dipped in 24 karat gold.
Presented in an elegant high quality case made from cherry-wood.
The deck is produced to tournament grade standards.
Price: $199.00
Personal jewellery items never go amiss as a perfect choice of twenty four year anniversary gift for him or for her. Stay with the musical instruments theme and choose a pair of gold or silver cufflinks as a 24th anniversary gift for him featuring the image of an instrument, a musical note, or a treble clef, and perhaps choose a matching pendant as a 24th wedding anniversary gift for her.
Alternatively, adopt the traditional gemstone theme for this marital year, tanzanite. A gorgeous purple stone, tanzanite is both valuable and beautiful and would make a stylish and elegant 24 year wedding anniversary gift for her when set into a pendant, pair of earrings or bracelet.
Choosing Traditional 24 Year Anniversary Colours
Like many other years, the 24th wedding anniversary has its own colour associated with it, in this case, lavender. This pretty pale purple goes well with the tanzanite theme, as this gemstone is also this same subtle shade. Take this colour as the theme for your gift and choose pretty lavender homewares such as cushions, bedding or soft Egyptian cotton towels that will reflect this anniversary theme in a stylish and cosy way.
You could even select a personalised lavender gift such as a painted wall plaque or commemorative plate with a personal message for the couple for an added thoughtful touch. Choosing to use an overarching colour theme gives you a lot more freedom in your choice of gift so you can find something ideal for the pair, whether they would prefer something for the home, something functional or even personal trinkets for each partner.

Floral 24th Anniversary Gifts for Couples
Every anniversary year is even more special when celebrated with a gift of flowers so when your loved ones have reached their 24th wedding anniversary, it is a great time to show them how much they matter by presenting them with a stunning floral bouquet.
Although there is no traditional floral 24th anniversary gift, you could either adopt the lavender colour theme for this marital year by choosing gorgeous purple blossoms like lilies, statice, sweetpeas, hyacinths and hydrangeas, or take the opportunity to select any blooms that you think the couple would love, whether that be an extravagant and eclectic display of colourful varieties or a simple arrangement of red roses reflecting romance and beauty.
Roses are always a popular choice, and you can even give the gift of a rose that will endure forever as a unique work of art when you choose a purple glazed Eternity Rose. Made from a single hand picked rose in a complex and intricate glazing process, each flower is preserved in its prime for a lifetime, and trimmed with an edging of fine 24 karat gold. When it is presented in its own stylish leather case it is perfect for display in any room of the home.