Let's first congratulate you on reaching your third wedding anniversary. Now you're both feeling pretty settled into the routine of married life and are starting to look forward to many more years together. However, now is not the time to rest on your laurels there's still a long way to go. Nevertheless your third wedding anniversary is an important event so time to look for a 3rd wedding anniversary gift that is going to impress your partner.
The traditional gift theme for a third anniversary is leather, chosen because of its durability. Your relationship has shown that it is durable, otherwise you wouldn't have made it to your third anniversary. Leather is also flexible and soft, as well as being warm to the touch. It can also be reshaped and moulded over time. All of which are perfect qualities in a marriage.
The modern gift themes are crystal and glass which means that you've got a wide variety of 3 year anniversary gifts to choose from. Time to offer up some suggestions for 3rd anniversary gifts that will make your day memorable.
Ideas for 3rd wedding anniversary gifts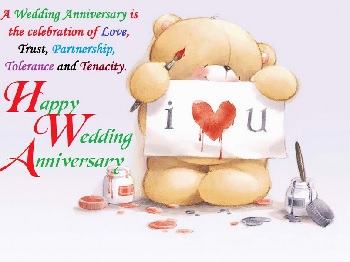 If you want to stick with the traditional theme then you've got lots of choices. For couples celebrating a third wedding anniversary the theme is leather which is timeless and elegant. It ages well and is used in many creative and functional leather anniversary gifts.
If you're looking for a 3 year anniversary gift for your husband consider the following options:
A stylish pair of leather shoes
A timepiece with a leather strap
A leather wallet
A leather jacket
A 3rd wedding anniversary gift for your wife could be one of the following:
A leather purse or bag
Stylish leather gloves
Leather boots
Leather belt
Leather bound journal
If you're thinking about buying a gift that you can both enjoy you might want to consider investing in some leather furniture.
If you'd prefer to choose a gift with a more modern theme then you've still got plenty of choices. While not quite as durable as leather there are still some delightful items you can buy for your home. A 3 year anniversary gift made of glass or crystal will make an elegant addition for your home. They will stand the test of time and you'll enjoy using them and reminding yourselves of the love that you share. Here are a few examples:
Crystal flutes – You're bound to want to toast the occasion with a bottle of champagne
Crystal paperweight – You can get this kind of gift engraved with the date of your wedding, or a meaningful message that shows you care
A bouquet of crystal roses – The perfect gift to give your beloved because it's beauty is never going to fade
Message in a bottle – This is a 3rd wedding anniversary gift that you can have a go at making yourself, or you can buy one from a store if you'd prefer
Crystal anniversary clock – Another gift that is perfect for a thoughtful engraving and one you'll be proud to display in your home
A crystal necklace – Buy some crystal beads and make your wife a totally unique necklace or bracelet
An engraved crystal jewellery box – Your wife is going to need somewhere to keep all her precious gifts in the years to come
Make a stained glass mosaic – Create your own design that is a representation of your loving relationship
Now you've got a few suggestions you may be wondering how to go about picking the perfect gift. Let's give some things to think about.


An Elegant Rose Earrings
Made from genuine miniature blue rose petals.
Handcrafted and trimmed with 24k gold.
Gold ringlet studded with 16 synthetic diamonds.
Price: $79.00

White Glazed Rose Earrings
Real miniature white rose petals combined with 24k gold.
Each pair features 16 brilliant synthetic diamonds.
These earrings are intricately detailed.
Price: $79.00

An elegant matching set
Crafted from genuine blue miniature rose petals and pure 24 karat gold.
Decorated with 30 brilliant synthetic diamonds.
Fast dispatch and express delivery for free.
Price: $149.00
Tips on choosing the most sublime third anniversary gift
Hitting the nail on the head with your anniversary gift is easy if you remember a few things while out shopping or browsing the many online gift sites.
Think about the personality of the person you're buying the gift for. Are they a sporty kind of person or do they love anything connected with food? Do they love to spend their free time in the garden or prefer to be curled up on the couch with an interesting book? Bear this in mind when choosing your gift and pick something that will be useful.
When buying for your spouse it's time to be sentimental.
If you're buying a gift for a couple of friends then buy something that's meaningful but not too intimate. If you've been invited to an anniversary party you'd be wise to stick with one of the anniversary themes. Leather anniversary gifts if you like to be traditional, glass or crystal if you think the couple would prefer something a little more modern.
If you're stuck for ideas then don't be afraid to ask family or friends for some pointers.
Don't feel under any obligation to spend loads of money, because it's the sentiment behind the gift that is most important, not the price tag. In fact some of the best gifts could have cost nothing at all, provided they are given with feeling and emotion of course.
Traditional and modern themes are very useful, especially if you're stuck for ideas. But you shouldn't give leather anniversary gifts or anniversary gifts made of glass or crystal at the cost of giving a more thoughtful and meaningful gift.
Where are the best places to do your anniversary gift shopping?
If you're still stuck for an anniversary gift and the date is fast approaching you might also be wondering about the best place to go to do your gift shopping. You might struggle to get to the mall in time if your day is already full with other commitments. And if you find the time you could spend hours wandering from store to store because you want to find the most perfect gift for your wife or husband. It's because of these problems that many people are now turning to the internet to do their shopping. Not just for anniversary gifts but birthdays, Christmas and even their weekly grocery shop.
Shopping online is brilliant because you get to see so many options and compare prices. It's like being in several different stores all at the same time. So pull up a chair, make yourself a drink and enjoy shopping for 3rd wedding anniversary gifts in the comfort of your own home.