After your loved ones have celebrated the milestone of the emerald anniversary last year, this year's celebration may not seem to be quite as significant. However, even if the happy couple wish to keep the occasion in a low key event at home, it is still important to put time and effort into choosing a 56th wedding anniversary gift that reminds them of how much they are appreciated and admired. Touch their hearts and really impress your friends or relatives on this anniversary year by giving them a token of esteem that is not only memorable, but thoughtful too.
Are There Traditional Any 56th Anniversary Gifts?
Although other anniversary years like the 55th are connected with famous symbols like the emerald gemstone, the 56th marital year does not have a specific theme. When the lists were created linking a symbol to each important anniversary year, the 56th anniversary was not considered to be a worthy milestone, and so no traditional theme was assigned to it. Even in the more contemporary lists that have been drawn up in recent years, there has been no modern theme given to 56 years of marriage. While some gift givers may see this as a drawback, in fact you should see it as a liberation. You are now able to freely pick and choose anything that you feel the special couple would appreciate. Whatever interests they may have, you can perfectly reflect these in your choice of present making it simpler than ever to source a fifty sixth anniversary gift that will capture the essence of the couple's enduring love after 5 decades of marriage. Take inspiration from the ideas featured here and you are sure to find something ideal that your loved ones will cherish for a lifetime.
Floral Fifty Six Year Anniversary Gift Ideas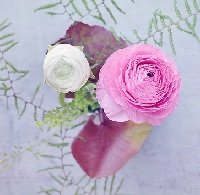 A floral gift is a token of appreciation that never goes out of style, so choosing a bouquet or arrangement of flowers is a great way to mark the day as truly special. Convey your best wishes to your friends or relatives by selecting the colours and varieties that you feel would be best as there is no particular colour or flower type linked with this anniversary year. There is sure to be a floral gift to suit the recipients, whether they would love a hand tied bouquet, an extravagant display or even a planter. Roses are always a favourite choice, and it is easy to see why because of their elegant appeal and their overtones of romance and love. Why not give a gift that combines the natural splendour of roses with the stunning opulence of an ornament. A glazed Eternity Rose is crafted by hand by talented artists from a single hand picked rose blossom. Intricately formed into a unique work of art, every blossom in trimmed with pure 24 karat gold and placed in a stylish display case made from prestigious leather to make a gorgeous gift that is sure to be treasured for years to come.
Jewellery 56 Year Anniversary Gifts for Him and Her
Jewellery is a gift that is always appreciated, so why not choose a lovely jewellery gift as a 56th annniversary gift for her or for him. While men will no doubt be delighted to receive a stylish tie pin or pair of monogrammed cufflinks, any lady would be thrilled to be presented with a pair of delightful earrings made from genuine glazed miniature rose petals and encrusted with glittering synthetic diamonds. A long lasting and special present for your loved ones, a gift of jewellery will be cherished forever and will bring the giver to mind again and again every time the item is worn.
Unusual Ideas for 56 Year Anniversary Gifts
It need not be difficult to find a fifty six year anniversary gift that is a little out of the ordinary. While the couple have probably received every possible traditional gift over the years, they may not have had the opportunity to experience everything that they have dreamed of. Why not give them a special gift of an unusual experience that they would never have thought of arranging for themselves? There are many different types of experience day available these days, and these are a creative and exciting option when it comes to choosing something unique to surprise your loved ones. If they enjoy thrills, why not give them a racing car driving experience? Or perhaps they love animals, in which case a day as a zookeeper may be the perfect choice. If your loved ones love spending time whipping up delights in the kitchen, a gourmet cooking class might be perfect, while if they just need to enjoy some time in total relaxation together, a couple's massage and spa day might be in order. If you would like to splash out on something really different, what about a hot air balloon ride or helicopter buzz flight for your loved ones? Or even a weekend away in a favourite destination or an evening in a five star hotel to make the event truly memorable?

Personalised 56th Anniversary Gifts for Her and Him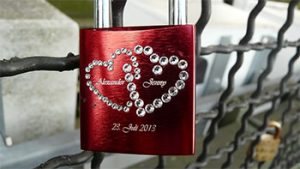 Personalised gifts are always an excellent idea as they bring a bespoke touch to the occasion. You could either make your own gift tailored to your loved ones, such as a photographic collage which captures happy times from the pair's long marriage from their wedding day right up to the present. Not only will this gift be a talking point, but it will also help them to remember the wonderful years that they have spent together. Alternatively, you could buy a personalised gift from one of the many websites that specialise in this type of product. A hand painted commemorative plate or plaque would be a lovely addition to the marital home and would form a lasting memento of this special time. Engraved champagne flutes or wine glasses are both practical and attractive, perfect for use on special family occasions, or perhaps you could go for a monogrammed pair of matching bathrobes or a cushion embroidered with the couple's names and anniversary date for a truly personal 56 year anniversary gift.