In these modern times, it is no small achievement to reach 57 years of marriage, so you should help your friends or relatives to celebrate on this milestone occasion by giving them a memorable and exciting 57th wedding anniversary gift. The most thoughtful presents need not be expensive, but they should be something truly special that touches the hearts of the recipients. Here you can find some inspiring ideas that you may wish to incorporate into your loved ones' 57th anniversary gift to demonstrate how much you cherish and appreciate them all the year through.
Traditional Customs for 57 Year Anniversary Gifts
Although there are many marital years that do have well known symbols and themes, the 57th wedding anniversary does not have any. In the early anniversary gift lists only the first decade and then every fifth year were selected for specific attention. Therefore, even though we think of 57 years of happy marriage as a major achievement there is no traditional gift that you can give. There is, however, a modern gift which is suggested and that is either mirrors or glass, and you could incorporate either of these into your chosen fifty seventh anniversary gift for your loved ones to celebrate this happy occasion.
Floral Ideas for a 57th Anniversary Gift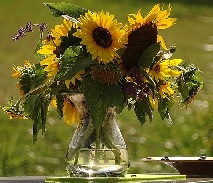 A beautiful cut glass vase would be a great way to capture the modern glass theme of this anniversary year while giving a fifty seven year anniversary gift that is both functional and attractive. To accompany it, why not give it alongisde a gorgeous bouquet of flowers? With their being no traditional colour linked with this marital year, you could select any shade that you think your loved ones would prefer, or why not go for azaleas, one of the suggested specific blossoms for this marital occasion. Roses are always a good choice for a stunning floral display, and with their meaning of love and romance, they make an especially appropriate choice. Sadly, cut flowers do not last for long, but there is a way to preserve the natural beauty and splendour of flowers. Giving your loved ones a glazed Eternity Rose is a fantastic way to commemorate this special occasion while being a memento that lasts a lifetime. There are few better ways to convey a message of appreciation and esteem to your friends or relatives than by presenting them with this luxurious and opulent gift. Each item is a unique work of art, crafted from a single genuine natural rose blossom and intricately preserved in a beautiful glaze. When it is trimmed with pure 24 karat gold and placed in a sophisticated leather display case, it represents a stunning and magnificent reminder of the happiness of this time in the couple's lives.
Jewellery 57 Year Anniversary Gift Ideas
Jewellery is always a wonderful choice for any anniversary year, so why not incorporate the modern glass theme for this occsion by presenting your loved ones with an elegant glass jewellery box to hold their trinkets? As an added extra, you could present it together with a piece of jewellery for each partner, perhaps a pair of cufflinks for him and a lovely miniature rose head pendant as an ideal 57th anniversary gift for her. With its luxurious glazed and gold trimmed appearance and matching gold dipped chain, it is sure to be worn for many occasions to come, recalling the giver whenever it is taken from its jewellery box.
Glass 57 Year Anniversary Gifts for Couples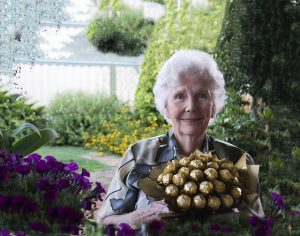 Glass is the contemporary theme for the 57 year anniversary, so why not surprise the lucky couple with some beautiful glasswares for their home? There are many wonderful glass gifts that are not only attractive but also serve a practical function too. A glass fruit bowl, cake stand or set of glasses is sure to be appreciated if your loved ones enjoy receiving useful gifts. Or what about a pair of glass candlesticks which will look graceful when adorning a dining table or mantelpiece? If they have a penchant for elegant home décor, what about a glass ornament or figurine which is sure to take pride of place as an enduring memento of the happiness of this occasion.
Choosing Glass 57 Year Anniversary Gifts for Him
While jewellery is often a good choice when finding a 57th wedding anniversary gift for her, men can be harder to please. Nevertheless, there are some glass gifts which are bound to impress. What about a cut glass whisky decanter or personalised whisky tumbler, of course presented with a bottle of his favourite tipple.


Personalised 57 Year Anniversary Gift Ideas for Couples
Glass is one of the best personalised gifts that you can give and also pefectly matches the modern theme of this anniversary year. Mark the day as truly special by surprising your loved ones with a pair of champagne flutes, engraved with their names and presented alongside a bottle of the best champagne. Alternatively, if they prefer wine, a bottle of a good vintage tipple together with a pair of matching wine glasses, personalised for the pair would be a great choice. Of course, you need not follow the glass theme if you would prefer a different personalised gift for your loved ones. Textiles are always a good choice for adorning the home, so choose a silk cushion, embroidered with the couple's details or a personalised and hand painted commemorative plaque to decorate any room of the marital home. For something more personal to each partner, why not give a pair of personalised embroidered towels or a pair of monogrammed silk bathrobes which will show a deeper level of planning and thought has been put into choosing a perfect present.
57 Year Anniversary Gift Experiences
For couples who already have everything for their home, why not give them the unique gift of a special experience? There are many gift experiences to choose from that will give the pair wonderful memories for years to come. Why not choose a gourmet dining experience for two at a top restaurant, a relaxing couples spa day or even a night at a world class show to give them an anniversary to remember?