Any couple who have been married for 34 years have achieved a great success in today's modern world where fewer marriages than ever stand the test of time. If your friends or family members have finally reached this milestone, you should take the opportunity to give them a meaningful gift that reflects your admiration and reminds them of how much they mean to their loved ones. After being together for so long, it is likely that the couple have already been the recipients of the majority of standard anniversary gifts over the years, so if you want your gift to really stand out and convey your true sentiments, it's important to choose something that is a little out of the ordinary. The more effort you put into choosing a present, the more the recipients will appreciate the time you have spent and the more the gift is sure to please them. Here you can find some helpful and original suggestions for 34 year anniversary gifts that your relatives or friends are sure to cherish for many more happily married years.
The Traditions of the 34 Year Anniversary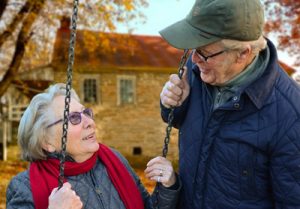 As many people know, most marital years have a specific material or symbol associated with them. However the specific theme for every anniversary is not always known. Although there are a few famous anniversaries, including the 50th which is known all over the world as the golden wedding, and the 25th, which is linked forever to the precious metal silver, the 34th wedding anniversary is not one of those well known occasions. Nevertheless, it has its own special theme which was assigned to it in more recent years to appeal to modern couples. In the 1920s, the original list was created linking some anniversaries to their own material, however this was limited to only the first 10 years and then every fifth year after that. Other marital years were passed over as they were not considered to be significant enough to attach a great celebration to. Luckily, in later years, the importance of celebrating every anniversary occasion was realised, and further lists were drawn up with associated specific themes for every single year. At that time, the 34th wedding anniversary was linked with the gemstone opal. Giving opals to your loved ones as their thirty fourth wedding anniversary gift conveys a deeper level of meaning, having long held a meaning of bringing luck to the recipient. What finer sentiments to wish for your friends or relations on their special day than a hope for luck and good fortune in their joint future?


Silver-Dipped Natural Rose
A real rose with a fine coating of pure silver.
The silver finish is bright and lustrous.
The rose is ideal to express your everlasting love.
Price: $179.00

An elegant matching set
Crafted from genuine blue miniature rose petals and pure 24 karat gold.
Decorated with 30 brilliant synthetic diamonds.
Fast dispatch and express delivery for free.
Price: $149.00

Light-Green Natural Rose
Real light-green rose glazed and trimmed in pure 24k gold.
This rose is ultimate symbol of lasting beauty and romance.
Fast dispatch and express delivery.
Price: $169.00
The History of Opals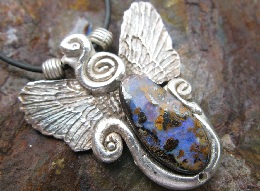 Opal is an unusual and beautiful gemstone, with a number of variations including some that are very rare. Although we tend to think of opals as being white, in fact they come in a host of shades including black, pink, brown, orange, violet, red and blue. Their characteristic colour is caused by the refracted light from their internal structure and they can be either semi-transparent or completely opaque. Most of the world's opal are found in Australia, and it is the country's national gemstone. Up to 97% of all of the opals in the world came from Australia and up to 80% of those were from the state of South Australia. There are, however, other locations in the world that opals are found. These include Ethiopa, Nevada in the United States, Brazil, Nicaragua, Indonesia and in several European countries including Hungary, Turkey and the Czech Republic. Opals can also be produced synthetically and are difficult to tell apart from natural opals, although they can not fluoresce in UV lighting conditions. In medieval times, the opal was thought to bring good luck to the wearer as it reflected all the properties of the gemstones within its colour spectrum. It was even rumoured to give powers of invisibility if it was held wrapped up in a bay leaf!
Opal Thirty Four Year Anniversary Gifts
If you want to wish luck for your loved ones by giving them an opal 34 year wedding anniversary gift, there are several options that you could choose. Opal jewellery is the obvious choice, and with its elegant and eye catching appearance, it is the perfect stone to create an impression. Perfect when set into any kind of precious metal, opal looks beautiful when presented as a ring, pendant or pair of stylish earrings. An impressive opal necklace or bracelet would be a fabulous 34th anniversary gift for her, while a pair of opal cufflinks would be an appropriate 34 year anniversary gift for him. Alternatively, if jewellery isn't an appealing present choice for your loved ones, why not give an opal home ornament? You can buy a number of pretty items for the home made from opal including beautiful paperweights, Christmas tree decorations and decorative ornaments. Any of these would be a long lasting and thoughtful thirty four year anniversary gift for your loved ones that will bring fond thoughts of you to mind for years to come.
Give Flowers to Your Loved Ones on Their 34 Year Anniversary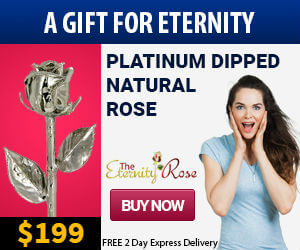 Giving flowers to your loved ones as an anniversary token of esteem has been popular for years and on the occasion of their 34th wedding anniversary, why not take a twist on the opal theme by giving creamy white flowers to mark the special day? Creamy white roses would make a fantastic 34th wedding anniversary gift for any couple, sure to impress thanks to their extreme beauty and able to convey your best wishes in an extravagant and magnificent way. Give a glazed white rose to your loved ones as a 34th anniversary gift and present them with a stunning token of appreciation that last forever. Eternity Rose's luxurious works of art are all made from hand picked natural roses that are preserved in an intricate glaze and trimmed by skilled craftsmen with a fine edging of 24 karat gold. When you surprise your loved ones with this exquisite gift, displayed in its prestigious leather case, the recipients will be left in no doubt as to how much they are appreciated and cared for.