Choosing anniversary gifts for your nearest and dearest is never an easy task, so when it is time to come up with something for your loved ones' 14th wedding anniversary, you may find that you are somewhat lacking in inspiration. Although giving something generic like a simple box of chocolates may be a standard gift, it is neither memorable nor something that can be cherished for years to come. The most appreciated wedding anniversary gifts are those which have a significance to the recipients and which have been specially chosen because they are appropriate for both the occasion and the happy couple themselves. There are no specific rules for the 14th wedding anniversary, although there are plenty of inspirational ideas from the traditional to the modern and from floral bouquets to gemstones. Browse these suggestions and you are sure to be able to think of something that your loved ones would love to receive on the occasion of the 14 year wedding anniversary and that will endure as a lasting memento of this happy event.
Exciting Traditional Fourteen Year Anniversary Gifts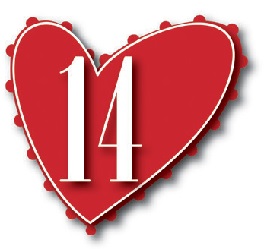 As you probably know, most anniversary years have their own special material or theme associated with them, however the 14th anniversary poses a problem. When the official lists were drawn up in the first half of the 20th century, the world was a different place and therefore assigning ivory as the traditional symbol for the 14th wedding anniversary was perfectly acceptable. Today, however, ivory is not ethically appropriate as a gift because of the endangered nature of our elephant populations and therefore this is a gift that is likely to be frowned on by many recipients. Luckily, there are suitable alternatives. There is a form of imitation ivory which looks very similar and is an attractive and still meaningful traditional 14th wedding anniversary gift. For a good decorative gift for a couple, a faux ivory scultpure or ornamental statue would be a perfect choice, whereas if you are looking for an ivory themed gift for individual partners, you could consider some elegant imitation ivory jewellery as a perfect 14th anniversary gift for her and an imitation ivory handled razor or shaving set as an ideal fourteenth anniversary gift for him.


Platinum-Dipped Natural Rose
A stunning natural rose.
Supplied with its own elegant display case in PU leather.
Boasts a glorious lustrous mirror finish.
Price: $199.00

White Glazed Rose Earrings
Real miniature white rose petals combined with 24k gold.
Each pair features 16 brilliant synthetic diamonds.
These earrings are intricately detailed.
Price: $79.00

Light-Green Natural Rose
Real light-green rose glazed and trimmed in pure 24k gold.
This rose is ultimate symbol of lasting beauty and romance.
Fast dispatch and express delivery.
Price: $169.00
Contemporary 14th Wedding Anniversary Gift Solutions
If you would rather not risk offending your loved ones by offering any kind of ivory gift on this anniversary year, even an imitation ivory one, you could look instead for a more modern alternative. The contemporary gift themes for each anniversary year drawn up in recent times, link the 14th anniversary with gold jewellery, an attractive and appealing gift that is easy to find and simple to tailor to the tastes of your loved ones. A simple gold chain or watch may be a suitable 14th wedding anniversary gift for him whereas there are always plenty of beautiful gold jewellery choices that make perfect 14 year anniversary gifts for her. One such gift idea is the timelessly elegant pendant and earrings set from Eternity Rose. Made from real glazed miniature rose petals, gorgeously trimmed with pure 24 karat gold and paired with a matching gold-dipped multilink chain, each pendant looks beautiful when worn with any outfit. The matching drop earrings are available in either a classic leaf or a stylish ringlet design and feature radiant synthetic diamonds as part of their design. What better way to celebrate the 14th wedding anniversary than by giving a gift that can be worn for years to come?
Giving Stunning Flowers as 14th Anniversary Gifts
It is easy to see why giving flowers is so popular on anniversary occasions. Their simple beauty and elegance speak volumes about how much the giver appreciates the recipient and demonstrates a level of care and esteem that is hard to match. When the giver chooses to give a traditional floral gift, tailored to the specific anniversary year, the gift means even more, revealing a hidden message in the language of flowers. The fourteenth wedding anniversary traditional flower is the dahlia, a particularly beautiful and vibrant flower that any couple would love to receive. The dahlia, like all other blossoms, has its own meaning in the language of flowers which is especially appropriate to a couple celebrating their 14th year of marriage. Giving a gift of a bouquet of dahlias conveys a message which sends meaningful blessings and is a symbol of creativity, inner strength and adherence to sacred values. As the couple have remained true to their wedding vows for 14 years, this is an appropriate and significant gift to give. Perhaps you would prefer to give a different flower as an appropriate 14th anniversary gift in which case, many gift givers choose to give a floral gift that they can be certain the recipients will be impressed by.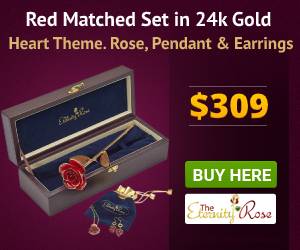 Roses always fit the bill, with their especially beautiful blossoms, vibrant colours and meaning of love, beauty and appreciation. Surprising your loved ones with a spectacular arrangement of these stunning blooms is the ideal way to mark the occasion of the 14th anniversary and delight your nearest and dearest. While real roses wither away after just a few days, there are rose gifts available which will maintain their lustre and sheen for a lifetime and act as a lasting testament to the couple's love throughout their married life. A glazed rose from Eternity Rose is a magnificent token of appreciation that any anniversary couple will love. A real natural rose is plucked by hand and glazed in a complex and intricate procedure which results in a gorgeously preserved splendid blossom. Finished with a fine 24 karat gold trim, each flower is a unique work of art and comes presented in its own stylish leather display case, ready to be placed in pride of place in the marital home. Every time the couple look at this lavish gift they will remember you fondly and will be amazed by the luxurious nature of this memorable and thoughtful gift.