27 years of marriage is a long time, and it would not be right to let the occasion pass by without commemoration, even though it is not technically a milestone year. Celebrate the 27th anniversary with your friends or loved ones and choose a gift that is significant and meaningful at this special time in their marital journey. Rest assured that, although the theme connected with this marital year is not well known, there is indeed a traditional gift idea connected with the 27th anniversary and this can be incorporated into your present to make it even more appropriate for this occasion. Be inspired by these ideas and create a unique and exciting present that your loved ones are sure to cherish.
Sculpture – the Traditional 27th Anniversary Gift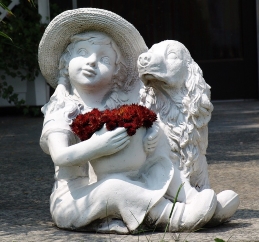 While the 27th anniversary is not a milestone year, it does have its own specific theme which is sculpture. Symbolic as it represents the meticulously crafted work of art that a long-lasting marriage has become, sculpture is a particularly appropriate and beautiful way to mark the occasion of the 27th marital year. As a sculptor spends years producing the ideal work of art to perfection, taking time over each aspect of it until it is beautiful to his eye and to the eyes of others, so a couple have worked together over 27 years, meticulously working on their marriage and paying attention to every aspect of it to make it the great success that it has become. As a sculpture is strong and robust enough to stand the test of time, so a 27-year-long marriage has also proved its resilience to the elements as it has weathered the storms of more than a quarter of a century of married life and emerged unscathed. Sculpture is a gift theme that has a long and eminent history. A branch of visual arts that operates in three dimensions, traditionally, sculpture was only originally produced by carving into wood or stone. However in more recent times, the term has been used to describe works of art that have also been modelled or assembled too and produced in a wider range of materials including metal and plastic. In the west, the traditional art of sculpture began in ancient Greece where masterpieces last until this very day.
During the middle ages, the art of sculpture was most commonly seen in churches for religious devotional purposes but during the Renaissance, some of history's greatest classics were produced including Michaelangelo's David which again can still be seen. Although many people associated sculpture with large public works, in fact having small sculptures as personal objects go back to the earliest prehistoric times. If you want to incorporate this theme into your choice of 27 year anniversary gift for your loved ones, there are many types of sculpture that you could choose, from traditional metal and stone to more modern options like glass, pottery, plastic or wood. There are also many different styles and designs to choose from, although human figures and animals are often the most popular. A popular idea for an anniversary sculpture is a heart shaped work or art, or images of a couple intertwined.


Platinum-Dipped Natural Rose
A stunning natural rose.
Supplied with its own elegant display case in PU leather.
Boasts a glorious lustrous mirror finish.
Price: $199.00

An elegant matching set
Crafted from genuine blue miniature rose petals and pure 24 karat gold.
Decorated with 30 brilliant synthetic diamonds.
Fast dispatch and express delivery for free.
Price: $149.00

Light-Green Natural Rose
Real light-green rose glazed and trimmed in pure 24k gold.
This rose is ultimate symbol of lasting beauty and romance.
Fast dispatch and express delivery.
Price: $169.00
Take a Twist on the Traditional Sculpture Theme
If buying a sculpture doesn't really appeal, there are several alternatives that are a twist on the theme. If you are feeling generous and would like to splash out on an extravagant 27th anniversary gift, you could always arrange a dream holiday for the lucky couple to a place commonly associated with its beautiful sculptures, perhaps Greece, as this was the original homeland of western sculpture or Florence, where the Piazza Del Signori is world famous for its amazing sculptures and works of art as well as the renowned Michaelangelo's David which is found in the city's Accademia di Belle Arti. If your budget cannot stretch so far, you could try making your own handmade sculpture as a truly personal gift for the pair, using modelling clay or by carving wood. If your artistic skills are not quite so developed, there is another alternative. Why not organise a session for the happy couple at a pottery class so that they can create their own special work of art to commemorate this special occasion?
Traditional Gemstones and Jewellery 27th Wedding Anniversary Gifts
If you would prefer to choose a gemstone gift that would make a lovely personal trinket to stand as a lasting reminder of this anniversary, you could look to the traditional stone for the 27th year of marriage, jet. Although this is only a minor gemstone, it is nevertheless extremely attractive and has been used to create decorative and ornamental objects since neolithic times. Especially popular during the Victorian era and the 1920s, you may even be able to find some vintage pieces to give your loved ones on this special occasion. Thought to protect the wearer from harm, jet jewellery is an especially attractive and thoughtful gift with which to surprise your loved ones as a twenty seventh anniversary gift, and a jet brooch would be a lovely 27 year anniversary gift for her while a pair of jet cufflinks would be an appealing 27th anniversary gift for him.
Giving Flowers as a Twenty Seven Year Anniversary Gift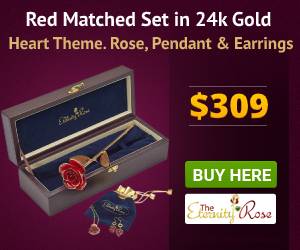 Giving flowers to your loved ones on any occasion is sure to delight and that is just as true on their 27th anniversary. As there is no specific blossom associated with this anniversary year, feel free to incorporate your loved ones' favourite varieties into one glorious arrangement that will sum up all your best wishes and heartfelt sentiments on this happy day. Or why not capture the jet theme of this anniversary year by choosing a stunning black glazed Eternity Rose. Made by hand from a single hand picked natural rose blossom, every flower is a one of a kind artwork, intricately glazed then trimmed with pure 24 karat gold. When you present this elegant and sophisticated gift to your loved ones on as a striking twenty seventh anniversary gift, they cannot fail to be impressed by such an opulent and magnificent token of esteem.