A wedding anniversary is a special day for any couple, but when their fiftieth anniversary is looming it calls for some pomp and splendour. If you are one half of a couple soon to be celebrating your 50th wedding anniversary, the right gifts can sometimes be difficult to find. After all, fifty years of married life means that there is little that's needed to make your life complete, so 50th anniversary gifts need to be meaningful. Quite often the celebrations will be left to the children to organize, so you get to concentrate on finding the perfect gifts for each other. The purpose of this site is to give couples some inspiration for anniversary gifts and here on this page we're going to be looking at golden wedding anniversaries. But it's not just couples who need to find the right gift, so we'll also be serving up some suggestions if you've got parents or grandparents, friends or family who will soon be celebrating their 50th anniversary.
Gold – The traditional and modern anniversary theme
If you're looking for a way to show your spouse how much they mean to you then there are plenty of options for golden anniversary gifts. The modern and traditional theme is gold, hence the reason for calling it a golden anniversary. There are however, also anniversary gemstones and anniversary flowers. On this special occasion the gemstone is gold and the flower a violet. Don't think that you have to use any of these themes. This is your 50th anniversary so the choice of gifts is yours.

Pendant & Earrings
An elegant matching set
Crafted from genuine blue miniature rose petals and pure 24 karat gold.
Decorated with 30 brilliant synthetic diamonds.
Fast dispatch and express delivery for free.
Price: $149.00
gold rose
Gold-Dipped Natural Rose
It perfectly combines the beauty of a natural rose and the majesty of fine 24K gold.
Presented in an exquisite leather case.
It comes with a certificate of authenticity.
Price: $179.00
gold cards
Gold-Dipped Poker Cards
A playable deck of poker cards dipped in 24 karat gold.
Presented in an elegant high quality case made from cherry-wood.
The deck is produced to tournament grade standards.
Price: $199.00
Gold has been the theme for a 50th anniversary since the Middle Ages, when a husband would give his wife a garland made of gold. A garland may not be the kind of gift your wife is expecting, but don't worry because there are lots of alternatives. Time to look at some of your options if you're looking for a gift that is made of gold.
Golden wedding anniversary gifts for a special lady
Half a century of marriage means you've gone through all that life can throw at you – good and bad. In spite of it all you've stayed true to each other and are still happy and in love. Quite an achievement we've got to say, because life is not easy on relationships. Something special is called for that has a personal touch from the heart, so consider one of the following:
A gold dipped rose – Roses are popular gifts to give loved ones, but unfortunately their beauty very quickly fades. A great idea is to give your beloved a rose bloom that's been carefully dipp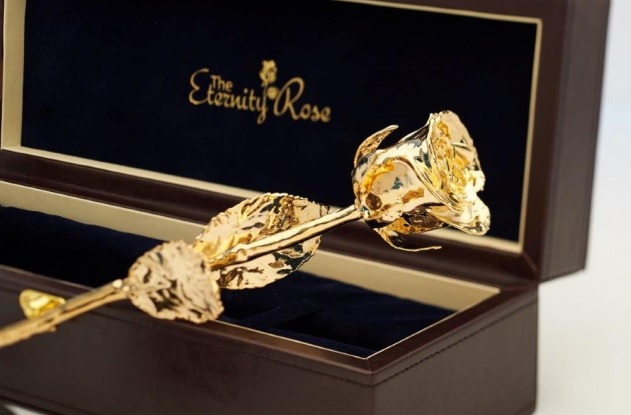 ed in gold, making this a gift that will stand the test of time, just like your marriage.
A golden anniversary ring – Add a special engraving and this gift will become very special. You could also have matching rings that are set with your birthstones.
A heart-shaped pendant – It's possible to have it engraved with some meaningful words or have a photo etched on it. This is the sort of anniversary gift that has been made totally unique
A professional photo-shoot – Have some professional photos taken of the two of you and pop them in a gold frame along with a photograph from your wedding day.
A scrap-book of memories – This is always a memorable anniversary gift but even more so when it's a 50th anniversary that's being celebrated. With 50 years of wedding bliss under your belt you're bound to have heaps of memories.
Time to renew your wedding vows – Your lives have probably changed many times over and the vows that you said 50 years ago could do with a little updating. This is also a perfect opportunity to invite family and friends to your ceremony.
Wrap your gift in gold paper – This is a perfect way to stick with the golden theme if you've decided to choose a gift that's a little bit different.
Memorable 50th wedding anniversary gifts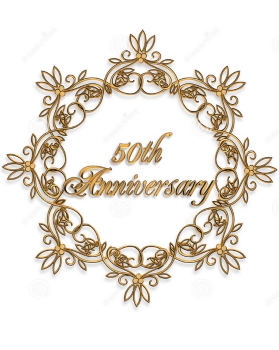 If you've got a bit of time before the anniversary then spend it looking at some of the great experience days available for booking on the internet. It might be time to choose an experience that is totally different from your normal routine, or the chance to try something you've both been longing to do.
A VIP winery tour – This golden anniversary gift is a great way to discover more about a local winery. With a VIP experience you get to enjoy the day without the stress of hoards of visitors. As well as touring the vineyards you'll also be given plenty of wine to taste, along with some tasty snacks, as we all know it's not good to drink on an empty stomach.
A horse-drawn sleigh ride – Cuddle up close to keep warm and enjoy the scenery, while you get transported across the winter wonderland.
Brunch and a cruise – Enjoy a brunch cruise across Toronto harbour and make the day one worth remembering.
Beer, coffee or cocktail masterclasses – Learn how to serve up your beverages like the professionals, and then invite some friends round so you can show off your skills.
A dancing date night – For the romantics among you spice up your anniversary night with the chance to learn some moves at a dance studio.
A flying experience – You can fly over many different Canadian cities and enjoy a bird's eye view of the metropolis below. You might even be able to get the pilot to fly over your home if you live nearby.
Wildlife tour of the Rockies – Enjoy the wildlife and scenery of the Rockies, as well as paying a visit to Miette Hot Springs. Whatever time of the year you make your visit there will be plenty of photo opportunities. Why not add them to your anniversary scrapbook?
Well how about that for a few suggestions. We're pretty sure one of them will suit your lady wife. But even if you decide to use your own idea we know that as long as the gift comes from your heart your wife is going to love it.