The 42nd anniversary is not a well known milestone, so it can be tempting to allow the occasion to slip by without much celebration or excitement. After the milestone of the ruby wedding a couple of years before and the promise of the golden wedding anniversary to come, making a big deal about 42 years of marriage is often not a priority.
Nevertheless, it is important to commemorate every anniversary occasion, especially after a couple have been together for so long – a rare feat in this modern world where marriages rarely last. Help your friends and relations to celebrate their special day by giving them a gift that is as thoughtful as it is memorable. Opting for a gift that reflects the anniversary's traditional theme is the perfect way to mark the day and will help the pair to remember just how important they are in the lives of those around them, and how much they are loved and admired on this important occasion and all through the year.

Is There a Traditional 42 Year Anniversary Gift?
Although some anniversary years are famous all over the world for their traditional symbols and themes, most marital occasions are not. While the 25th year of marriage is celebrated worldwide with silver gifts and the 50th anniversary is commemorated globally with gold tokens of esteem, the 42nd anniversary is not a milestone year and therefore does not have a symbol that is well known.
Nevertheless, there is a symbol associated with 42 years of marriage and this is the theme of real estate. Not the easiest theme to capture in your chosen 42nd wedding anniversary gift, it nevertheless can inspire you to give something creative and fun if you think laterally. A real estate gift is significant at this stage in a couple's life as it perfectly represents that happy home that the pair have made together and the investment in their joint lives that the couple have made over the last 42 years.
Giving a Forty Two Year Anniversary Gift of Real Estate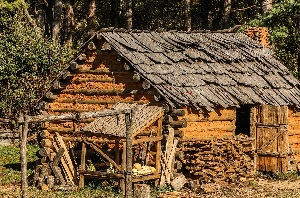 Couples who have reached their 42nd anniversary may want to reflect the traditional theme of this anniversary year by making a real estate investment. The time may have come to think about the future, and perhaps downsize their home if their children have flown the nest. This could be the ideal time to think about moving to a new smaller property or to move to a new part of the country or a different area.
Many couples are also thinking about investing in a second property which they can rent out as an additional income in their retirement. This could be the ideal 42nd wedding anniversary gift to give eachother on this special day and will be something that will last for a lifetime as an ongoing investment. Another great idea for a real estate traditional forty second anniversary gift is a holiday property in a favourite destination. At this stage in a couple's life, it is common to think about spending more time on holiday, and therefore investing in a vacation home is a special and wonderful way to mark this marital occasion.

Pendant & Earrings
An elegant matching set
Crafted from genuine blue miniature rose petals and pure 24 karat gold.
Decorated with 30 brilliant synthetic diamonds.
Fast dispatch and express delivery for free.
Price: $149.00
gold rose
Gold-Dipped Natural Rose
It perfectly combines the beauty of a natural rose and the majesty of fine 24K gold.
Presented in an exquisite leather case.
It comes with a certificate of authenticity.
Price: $179.00
gold cards
Gold-Dipped Poker Cards
A playable deck of poker cards dipped in 24 karat gold.
Presented in an elegant high quality case made from cherry-wood.
The deck is produced to tournament grade standards.
Price: $199.00
Novelty 42nd Anniversary Gift for Loved Ones
If you cannot stretch your budget to accommodate some actual real estate for your loved ones, why not give a novelty 42 year anniversary gift that will not only be fun but will reflect the symbolic nature of this anniversary occasion. A house shaped gift is an ideal way to nod at this year's traditional theme without breaking the bank. Why not surprise your loved ones with an attractive tea light holder in a classic house shape – symbolising the comfortable and cosy nature of the home that the pair have made together, this is an ornamental and decorative gift that brings a warmth and style to any living roon.
Another alternative is a piece of art which features property – perhaps a contemporary Manhattan skyline print with soaring skyscrapers, or for something to suit a rustic themed home, a watercolour of pretty country cottages. For couples with a garden, why not give a bird feeder in the shape of a house that will bring hours of pleasure to the pair as they watch the varied birdlife flying into their garden to feed.

Floral 42 Year Anniversary Gifts
If you are struggling to find inspiration for your loved ones' 42nd anniversary gift, there is no need to despair as flowers make the perfect present for any anniversary occasion. With no specific blossoms associated with 42 years of marriage, you can select any flower that you like to make up a beautiful bouquet or arrangement for your friends or relatives to brighten their special day.
Whether they have eclectic tastes and would appreciate a dramatic display of many multi-coloured blossoms or whether they prefer the sophisticated and stylish minimalist lines of a bouquet made of a single variety, there is certain to be an ideal floral gift to suit every couple. Choosing roses is always popular as they are both stunningly exquisite and bring with them a message of love and devotion. As there is no traditional colour for the 42nd year of marriage, you can select any shade that the couple would prefer, whether they have a particular favourite, or whether you would simply like to pick a hue that would go well with their home décor.
Why not choose a rose gift that will endure for decades to come as a lasting commemoration of the couple's ongoing devotion? Each unique work of art is made by a skilled craftsmen from a hand picked, specially selected natural rose blossom. Intricately glazed and trimmed with purest 24 karat gold, the result is a magnificent token of esteem, especially when presented in its own prestigious leather display case, ready to adorn the couple's home in any display cabinet, forming a focal point and becoming an heirloom for generations to come.