While not a milestone year, the 9th wedding anniversary is nevertheless a time to celebrate with family and friends. Almost a decade of happy marriage should be marked with the giving and receiving of special gifts that reveal the depth of love, appreciation and sentiment that you feel for your loved ones. If you are lacking the inspiration you need to find something meaningful and exciting for a special couple in your life, here you will find lots of helpful suggestions and ideas of traditional, modern, floral and gemstone gifts that will make it easier for you to come up with a present that will impress the recipients and give them a lasting memento of this happy time. Whatever your loved ones' tastes, you can be sure that you will find a suggestion here that they will cherish for a lifetime.
Traditional Pottery Wedding Anniversary Gifts for the 9 Year Anniversary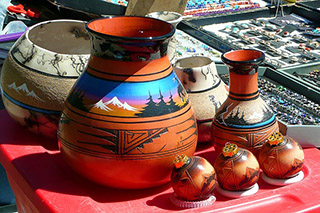 Traditional gifts are often amongst the most popular when it comes to choosing something appropriate to mark an anniversary year. The majority of years have been linked with a particular theme, material or symbol that has a specific meaning and relevance to that year of marriage. The ninth wedding anniversary is connected with two traditional materials, both of which have a particular symbolism on this anniversary year. The first is pottery, a charming gift which reflects the couple's marriage perfectly. As a potter shapes and moulds the clay into the shape of his choice, so a couple mould themselves together into a perfect representation of a loving union. As time goes by, their love for each other becomes a thing of beauty just as the potter's clay turns into a work of art. What a lovely way to surprise any couple on their 9th wedding anniversary, by giving them a beautiful gift of pottery homewares that will look beautiful in their home and serve as a lasting testament to their enduring devotion. A pottery pot, bowl or set of serving dishes would be practical and yet attractive and embued with deeper meaning. Alternatively, a pair of personalised mugs or a commemorative pottery plate would be a more personal way to mark the occasion in a bespoke manner.
Opting for Traditional Willow 9 Year Anniversary Gifts
The second material which is linked with the 9th wedding anniversary is willow. This uniquely elegant and beautiful tree bends gracefully under the weight of its branches and yet does not snap or break. This reflects the nature of a 9 year long marriage in which the couple have undergone all kinds of trials and tribulations, and yet their joining has only made them stronger. It reminds the couple of the need for flexibility in their relationship and of the need to sometimes give in to the needs of the other without snapping or breaking. Although willow may not seem like the easiest solution to gift finding, in fact there are a surprisingly large number of willow gifts out there. Of course it is always possible to give a willow tree sapling to the loving couple to plant in their garden as an enduring reminder of their anniversary and to tend and cherish as it flourishes over the years to come. However if your loved ones have no garden, or lack the green fingers that they need, why not give a carved willow gift instead. There are lots of options from willow pen sets to book marks and from pendants to anniversary rings. Your loved ones are sure to appreciate something so unusual and appropriate for their ninth anniversary gift.

Modern Alternatives to the 9th Wedding Anniversary Gift
Leather is the modern alternative to the traditional nine year anniversary gifts. With its connotations of shelter, protection and warmth, leather is an incredibly stylish way to mark the occasion of the 9th wedding anniversary. Consider giving a leather gift for the home such as a leather cushion or piece of artwork or give individual gifts that they will love. A piece of leather clothing such as gloves, a jacket or shoes is a luxurious and appropriate gift that will last for many happy years as a token of your esteem. Or for a leather 9 year anniversary gift on a budget, a pair of personalised key rings made from leather and inscribed with the couples' names and anniversary date will bring you to mind every time they open their door.
Beautiful Flowers Make Ideal Ninth Anniversary Gifts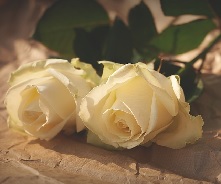 On the ninth anniversary year, there is a special flower that is customarily given as a gift and that is the poppy. This pretty and vibrant red blossom may not be readily available to give as a bouquet, but could be purchased to plant in the couple's garden. It has many meanings including dreaming and peace, however in Greek mythology and in some cultures, poppies were given as offerings to the dead. In order to avoid this unpleasant connotation you may wish to give a different type of flower as an anniversary gift for the 9th anniversary. Roses are often a popular alternative because of their especial beauty and meaning of love and appreciation. Giving a bouquet of stunning roses to your loved ones will bring light and love into their lives on this special date. Often however, givers wish to present their loved ones with an anniversary gift that will endure for a lifetime and therefore may be put off buying roses as they will fade and wither in a short space of time. The Eternity Rose is the perfect solution. Each magnificent blossom has been picked in its prime and glazed by hand by skilled craftsmen to produce a one-off work of art. Trimmed with an opulent 24 karat gold edging, each luxurious bloom is then placed in a stylish leather presentation case ready to impress your loved ones. Preserving a rose's beauty for a lifetime, this wonderful blend of art and nature's splendour will be displayed in the marital home for many happily married years to come.