Despite not being one of the key milestone marital years, the occasion of your loved ones celebrating their 22nd wedding anniversary is an opportunity for you to show them how important they are in your life. Demonstrate your friendship and good wishes by choosing just the right 22nd wedding anniversary gift that will both impress and stand as a lasting testament to the day. Here you will find numerous exciting suggestions that will inspire you to be creative when it comes to choosing the ideal present. Never again will you feel the need to pop to the store for a box of generic chocolates, this list will help you to discover unusual and unique ideas that you friends and family members are sure to love.

Traditional Suggestions for 22 Year Anniversary Gifts

The traditional theme for the 22nd year of marriage is copper, a soft and malleable metal that holds a special significance for a long-married couple. As copper can be easily moulded into shape, so a couple, after 22 years of happy marriage, have learned to shape themselves into the perfect fit for each other. They have learned to give and take – the secret to a successful union, and they have learned the importance of giving way to the other whenever necessary. However as copper also boasts a beautiful sheen that sets it apart from other metals, so a happy 22 year long marriage is also a thing of beauty to be admired.
There are numerous interesting ideas for copper gifts, from homewares to more personal trinkets, and you can be certain that if you opt for this traditional twenty-second anniversary gift for your loved ones, you will be conveying a message of thoughtfulness and appreciation that will never fail to delight.
For the couple who enjoy spending time in the kitchen rustling up gourmet treats, a set of copper pans is the ideal choice. Attractive, modern and stylish, this is a gift that will keep giving with years of practical use. Do your loved ones enjoy their cocktails? Then a pair of copper Moscow Mule mugs would be a lovely idea. Beautiful and authentic, this gift will see plenty of use by the lucky recipients.
Of course, there are many wonderful copper presents for the home too, perfect for any pair who have a love of elegant home décor. Copper wall art looks sensational and can adorn any room of the home, bringing an added layer of style together with a heartfelt reminder of this anniversary year. Copper garden ornaments are also another popular choice, including copper rain guages, copper mobiles or decorative garden stakes. These are lovely ideas for any couple who enjoy spending time outdoors in each other's company.
Personal Trinkets as Twenty Second Wedding Anniversary Gifts
Often, more personal gifts are the solution when searching for the ideal present for your loved ones on the occasion of the 22nd wedding anniversary. If so, you can still embrace the copper theme but in a more individual way. A pair of copper key chains, perhaps engraved with a personal message commemorating the occasion, would be a low cost yet special way of reminding your loved ones of how much they mean to you, while a pretty copper trinket box, ideal for holding keepsakes and treasured mementos, would be another perfect 22nd anniversary gift to create lasting memories.
Pendant & Earrings
An elegant matching set
Crafted from genuine blue miniature rose petals and pure 24 karat gold.
Decorated with 30 brilliant synthetic diamonds.
Fast dispatch and express delivery for free.
Price: $149.00
gold rose
Gold-Dipped Natural Rose
It perfectly combines the beauty of a natural rose and the majesty of fine 24K gold.
Presented in an exquisite leather case.
It comes with a certificate of authenticity.
Price: $179.00
gold cards
Gold-Dipped Poker Cards
A playable deck of poker cards dipped in 24 karat gold.
Presented in an elegant high quality case made from cherry-wood.
The deck is produced to tournament grade standards.
Price: $199.00
Give a personalised copper plaque to your loved ones, inscribed with an inspirational message or some relevant poetry or song lyrics that mean something significant to the pair for a truly bespoke 22nd wedding anniversary present, or opt for items of jewellery which are always popular gift choices because of their long lasting and appealing nature. There are several options to purchase copper jewellery as 22nd anniversary gifts for him and her. A fashionable man will love to receive a pair of copper cufflinks, ready to complement any stylish outfit while she will be delighted to receive some pretty copper earrings, a copper bangle or a gorgeous copper pendant necklace as a significant reminder of this special occasion.
Traditional Gemstones as 22nd Anniversary Gifts for Her

The 22nd wedding anniversary has its own traditional gemstone associated with it, the spinel. Quite an unusual stone, it is available in a host of colours and in the past has often been used as a lower cost alternative to rubies and sapphires. Nevertheless it has a beauty all of its own and is thought to promote calm and healing energies. The meaning can vary depending on the colour, with green and pink varieties thought to represent love which makes them a wonderful choice for a jewellery 22 year wedding anniversary gift for her, whether set into earrings, a pendant or a bracelet.
Mark the Day With a 22nd Wedding Anniversary Gift of Flowers
Often on the occasion of a loved ones' wedding anniversary, we opt for a floral gift that incorporates the traditional flower associated with that marital year, however the 22nd wedding anniversary does not have its own specific blossom linked with it. You should not see this as a drawback however as it only means that you have more options to choose from. That means that you can really let loose and opt for any kind of bouquet that the recipients would cherish.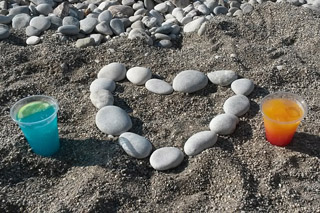 If they prefer the simple things in life, an elegant arrangement of a single flower variety might be the perfect choice whereas if they have more eclectic tastes, a wilder and more extravagant bouquet comprising many different colours and varieties will not fail to impress.
Surprise your loved ones with a flower than never dies when you choose to give a single glazed Eternity Rose. Made from a single, hand-picked genuine rose blossom, each bloom is a unique work of art that has been produced by a talented artist in a 3 month long glazing process which preserves its natural splendour to perfection. Finishes with a fine 24 karat gold trim, each flower is then placed in a stylish leather case, ideal for presentation and display in pride of place.