There is no denying that reaching the 55th wedding anniversary is nothing less than an enormous achievement, so if it is your parents, your friends or your other relatives who have reached this key event, it is certainly time to celebrate. Take the time to choose a 55 year anniversary gift that will not only be appreciated by your loved ones but will also demonstrate your heartfelt sentiments by its meaningful nature. This milestone occasion offers the perfect opportunity for you to show the happy couple just how much they are appreciated and admired while showing their importance in the lives of all around them. One of the best ways to do this is to give them a 55th wedding anniversary gift that reflects the traditional themes of this anniversary year.

Traditional 55th Anniversary Gift Themes
In the 1920s, when the original gift lists were created linking materials with every important year of marriage, the 55th wedding anniversary was featured highly on the list as a key occasion. The traditional material associated with this important anniversary was emerald – one of the most precious gemstones of them all. These stunning green stones reflect the radiance and beauty of an enduring marriage, making them a truly memorable and significant way to mark the occasion of this happy anniversary.


White Glazed Rose Earrings
Real miniature white rose petals combined with 24k gold.
Each pair features 16 brilliant synthetic diamonds.
These earrings are intricately detailed.
Price: $79.00

Light-Green Natural Rose
Real light-green rose glazed and trimmed in pure 24k gold.
This rose is ultimate symbol of lasting beauty and romance.
Fast dispatch and express delivery.
Price: $169.00

An elegant matching set
Crafted from genuine blue miniature rose petals and pure 24 karat gold.
Decorated with 30 brilliant synthetic diamonds.
Fast dispatch and express delivery for free.
Price: $149.00
Interesting Information About Emeralds
Emeralds are actually a form of beryl, a lesser known gemstone. Having been mined for hundreds of years, emeralds have a very long history, and artefacts have revealed that they were even being used as long ago as 1500 BC in ancient Egypt. Most of the world's emeralds today are produced in Columbia or Zambia, although they are found in other places in the world including America. There is great cultural significance attached to emeralds, especially in the East where in India especially there is a great respect for these beautiful gems. In fact, the country's best known temple, the Madurai Inakshiamman, dedicated to the goddess Minakshi, has an idol carved in its entirety from a single huge emerald.
Choosing Flowers as the Perfect 55 Year Anniversary Gift
There are very few couples who wouldn't appreciate receiving a gorgeous floral gift on the occasion of their anniversary, whichever milestone they were celebrating. So, if you would like to give flowers to your loved ones as the perfect fifty five year anniversary gift, you can go right ahead knowing that you are selecting a tried and tested gift choice. Why not go for a green floral theme to perfectly reflect the year's emerald theme? As green is a floral symbol for rejuvenation and good health, green blossoms are the ideal choice for a spectacular anniversary bouquet. There are several different green blooms to choose from such as green crysanthemums, gladioli, zinnia and carnations. There is also a green variety of rose which would make a striking display. There is a luxurious green rose gift that combines the splendour of natural floral beauty with the elegance and sophistication of an ornament and that is the magnificent glazed green Eternity Rose. Made from a hand picked single rose blossom, each flower is intricately glazed and worked into a lavish and unique work of art, trimmed with a fine 24 karat edging. When presented in its stylish high quality leather case, it represents the ideal way to show your appreciation and esteem for the special couple in a lavish and impressive way.
Emerald Themed 55 Year Anniversary Gifts for Special Couples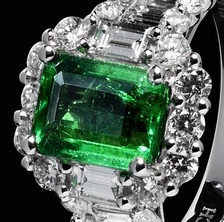 If your budget cannot stretch to buying your loved ones a gift of emerald jewellery, why not embrace the emerald colour and use this as your overarching gift theme instead? This will give you a great deal of freedom to choose the ideal present that matches your loved ones' tastes. Whether they love clothing and accessories or beautiful home décor, there is certain to be something to suit. Why not choose a brilliant green set of towels or perhaps a personalised green cushion? Or what about a beautiful green ornament to adorn the home? Decorative green glassware or ceramics would be a good choice, while a green personalised commemorative plate would be a special and personal way to mark the occasion.
Vacation 55th Anniversary Gifts
The 55th anniversary is a huge milestone, so why not help your loved ones to celebrate by arranging a special holiday for them to enjoy together? A trip to Seattle would be ideal as the city is known as "the Emerald City". What better way to capture the essence of this anniversary's theme? Named for the beautiful greenery around the city and at its very heart in its parks, Seattle is green all year round thanks to its evergreen trees. This makes it a perfect destination for your loved ones to relax in nature's splendour, reconnecting and reaffirming their long-enduring devotion and love for each other.
Emerald 55 Year Anniversary Gifts for Her
Emerald jewellery is the ideal choice for a fifty fifth anniversary gift for her. Vibrantly coloured and radiantly beautiful, this sparkling gemstone is sure to be appreciated by any woman, whether her tastes are classic or traditional. Choose a pretty pendant, a pair of lovely earrings or a stylish bracelet in a design to suit her taste and you will be giving a lasting and memorable token which she will treasure for many more years.
Choosing a 55 Year Anniversary Gift for Him
Although choosing an emerald gift for him can be tricky, you can perfectly capture the essence of this year's theme by choosing a pair of sophisticated emerald cufflinks or perhaps a tie pin. Either of these would be a fashionable and lavish choice of 55 year anniversary gift for him. If he is not keen on jewellery, a green gift may be a better choice – perhaps a green shirt or some green accessories that will reflect the theme of this anniversary year in a way that he is sure to appreciate.