Seven years of marriage has connotations of luck, as 7 is often thought of as a lucky number, however it is also linked with the concept of the 7 year itch. This means that when your loved ones reach this milestone in their union, they deserve a gift that celebrates the love that they share and that conveys the love and appreciation that you feel for them. There are lots of different options when it comes to choosing 7th wedding anniversary gifts, from the traditional to the modern and from the floral to the colourful. Feel free to choose the perfect gift for the recipients by combining different themes and symbols and producing a present that will not only be appreciated but will form a lasting memento of this special time in the couple's lives. A wedding anniversary gift should always be not just thoughtful but a token which can be kept as a reminder of the happy day and stand as a testament to the pair's enduring devotion to each other. Let these suggestions of 7 year wedding anniversary gifts inspire you to create something that will amaze and impress any celebrating couple.
Give Meaningful and Traditional 7th Wedding Anniversary Gifts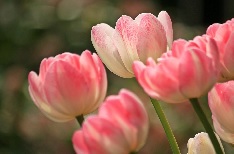 The 7th wedding anniversary, like so many others, is linked with traditional materials which are often given as gifts on this marital year. The seventh wedding anniversary is associated with two symbolic materials – wool and copper. Each has a deeper significance when related to a happy marriage. Wool has long been a traditional material for generations, giving warmth and comfort to the wearer as well as protection from the cold. When given as a traditional gift to commemorate the 7th year of marriage, a woolen gift symbolises the warmth and comfort found in a happy marital union and reflects the cosiness of the relationship after so many joyful years together. Copper too has a symbolic meaning. A reflection of beauty and durability, it reinforces the strength and long lasting nature of the 7-year-long marriage and represents the beauty of its nature. There are many wonderful gifts that perfectly capture these themes and that would make a memorable and cherished token of esteem on this happy occasion. A beautiful woolen throw or blanket will adorn the marital home for years to come and will have a practical purpose, while warm woolen garments, such as matching sweaters or scarves will be appropriate to the theme and receive plenty of practical use during the cold season. Wool lined slippers are functional yet luxurious gifts that are sure to be appreciated, while a hand-knitted or crocheted gift of any kind, whether functional or decorative, will touch the heart on this special day. When it comes to copper gifts, there are a wealth of options to suit all types of recipient. For those who love artistic items or home décor, a copper statuette or piece of wall art would be an ideal choice, while for those who enjoy gourmet cuisine, a traditional 7th anniversary gift of copper cookware would be a perfect solution.


Gold-Dipped Natural Rose
It perfectly combines the beauty of a natural rose and the majesty of fine 24K gold.
Presented in an exquisite leather case.
It comes with a certificate of authenticity.
Price: $179.00

White Glazed Rose Earrings
Real miniature white rose petals combined with 24k gold.
Each pair features 16 brilliant synthetic diamonds.
These earrings are intricately detailed.
Price: $79.00

An elegant matching set
Crafted from genuine blue miniature rose petals and pure 24 karat gold.
Decorated with 30 brilliant synthetic diamonds.
Fast dispatch and express delivery for free.
Price: $149.00
Modern Ideas for a 7 Year Anniversary Gift
If your loved ones would prefer something a little more geared to modern tastes may prefer the gift choice linked with 7 years of marriage on the contemporary gift lists. Desk sets have been suggested as an appropriate choice for today's couples and opting for one of these either as a joint or individual gift for loved ones on this anniversary year is an excellent way to mark the day.
Floral Suggestions as a Seven Year Anniversary Gift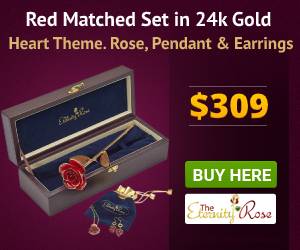 As with many other years of marriage, the 7th anniversary has its own special flower linked with it, with its own deeper significance. The freesia is connected with the seventh year of marriage, with this delicate and pretty blossom symbolising innocence and friendship. Within the context of a marriage, this bloom indicates the strength of the bond between the couple who have become not only lovers but the best of friends over the years. Their loyalty towards each other is stronger than ever and they have learned the importance of giving and taking within the relationship. A bouquet of these lovely flowers is a wonderful way to celebrate the occasion, however if freesias don't take your fancy, why not consider roses instead? The rose is always considered to be a suitable alternative on any anniversary year as it is embued with a meaning of love and beauty. On the occasion of the 7th wedding anniversary, a bunch of yellow roses sent to your loved ones will embrace the traditional colour linked with this anniversary year while conveying the message of love and appreciation that you hold in your heart. If you like the idea of a yellow rose 7 year anniversary gift but would rather select a present that is longer lasting, there is a perfect way to resolve the problem. A glazed yellow rose from Eternity Rose will endure for a lifetime as a magnificent commemoration of the 7th year of marriage. Trimmed with fine 24 karat gold, this elegant ornament is a unique work of art created by skilled craftsmen and when displayed in its supplied prestigious leather case, it will form a talking point for generations. Another alternative is to give your loved ones this stunning glazed rose together with a stylish copper vase which will encapsulate the essence of this anniversary year.
Gemstone Ideas for 7th Wedding Anniversary Gifts for Her
The gemstone linked with the 7th year of marriage is onyx, a stone that is available in many colours. While black is the most readily available and popular, it is also found in banded agate, clear and red varieties and symbolises the protecting nature of the relationship. Giving a piece of onyx jewellery as a 7 year wedding anniversary gift for her is a reflection of the strong and loving marriage between the couple and a relationship that keeps both partners safe from harm.