As your loved ones' marriage enters the second half of their second decade, it is time to take stock and to celebrate the achievement of the happy couple by giving them a 16th anniversary gift that really means something special. Finding inspiration for anniversary gifts is never easy, especially if you want to avoid giving something generic like yet another box of chocolates this year.
Luckily, this article aims to give you some exciting ideas and suggestions to work with so that you can find a present that will touch the hearts of your loved ones and perfectly match their tastes and interests. From traditional gift ideas to delightful floral bouquets and stunning gemstones, there are all kinds of excellent ideas to select from. As there are no rules to adhere to, there is no reason why you can't select from all the different suggestions, combining them if you choose into a present that will hold a deeper meaning to its recipients.
Which is the Traditional 16 Year Anniversary Gift?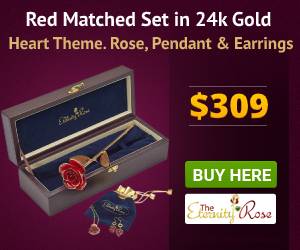 If gift givers want to find something more unique and special to give their loved ones on the occasion of the 16th wedding anniversary, it makes sense to look to the traditional gift lists. Originally, the first 20 years of marriage were each assigned a specific and symbolic material to be given as the most appropriate gift for that year of marriage.
Although some of these traditional marital gifts are well known, for example paper for the first year of marriage, silver for the 25th and gold for the 50th, the 16th wedding anniversary is not only of the years with a famous theme. Nevertheless there is a designated material associated with 16 years of marriage and that is silver holloware or silver plate. Elegant and luxurious, this is a gift that will last for a long time in the couple's home, reminding them of this important event for years to come.
If you like the idea of giving your loved ones a gift of silver plate, you could consider a beautiful serving tray with an intricate filigree design, a magnificent silver coffee pot or tea set or perhaps a silver ice bucket, of course filled with a bottle of fine champagne for toasting the special occasion.
Silver Jewellery for the 16th Wedding Anniversary
As silver holloware gifts are all homewares, you may want to consider giving something a little more personal to your loved ones on the occasion of their 16 year wedding anniversary. Depending on the recipients' tastes, there are many smaller yet significant silver gifts that can be given to each of the partners as a lasting reminder of their sixteenth anniversary. For any lady, a pair of silver earrings, a silver bracelet or a simple silver locket, perhaps personalised with the couple's initials and wedding date would be an ideal sixteen year anniversary gift for her. Meanwhile, silver filigree cufflinks or plain silver, monogrammed with the couple's initials would be a perfect 16th wedding anniversary gift for him.
Gemstone Jewellery for 16 Years of Marriage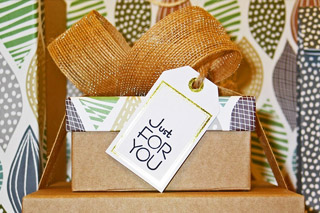 There are two traditional gemstones linked with the 16th wedding anniversary, the peridot and the golden topaz. Both are uniquely beautiful in their own way and make memorable anniversary gifts for the 16th year of marriage when given as part of a jewellery gift.
Peridot is a gorgeous green gemstone that looks remarkable when presented in a silver setting in a pendant for her while golden topaz has a luxurious golden glow that looks wonderful in a ring, necklace or earrings. Either would be a thoughtful and long lasting gift with which to surprise a special lady on the occasion of her 16th wedding anniversary.
Flowers Make Perfect 16 Year Anniversary Gifts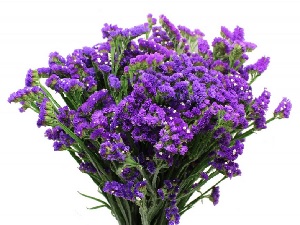 Flowers always make an impressive gift to present to your loved ones on any anniversary year, with the 16th anniversary being no exception. It is easy to see why flowers are such a great choice as an anniversary gift as they are always beautiful and are an ideal way to express a personal message of esteem to the happy pair on this important event. While any gift of flowers conveys sentiments of appreciation, choosing the appropriate flower for the specific anniversary year holds even more significance.
The 16th wedding anniversary has its own associated flower which is the statice. The statice, also sometimes known as sea foam or marsh rosemary, is a blossom that is native to Mediterranean areas and is traditionally purple or blue although today there are yellow, white and pink varieties. Although it is a common flower in wreaths because of its meaning of remembrance, it also holds a meaning of success, making it a suitable flower to give on the occasion of a celebration such as an anniversary. If, however, you would prefer to give a flower that is solely associated with positive meanings, the rose is the ideal substitute.

Pendant & Earrings
An elegant matching set
Crafted from genuine blue miniature rose petals and pure 24 karat gold.
Decorated with 30 brilliant synthetic diamonds.
Fast dispatch and express delivery for free.
Price: $149.00
gold rose
Gold-Dipped Natural Rose
It perfectly combines the beauty of a natural rose and the majesty of fine 24K gold.
Presented in an exquisite leather case.
It comes with a certificate of authenticity.
Price: $179.00
gold cards
Gold-Dipped Poker Cards
A playable deck of poker cards dipped in 24 karat gold.
Presented in an elegant high quality case made from cherry-wood.
The deck is produced to tournament grade standards.
Price: $199.00
Magnificent and romantic, their loving meaning and natural beauty make them a perfect present to give your loved ones in a spectacular 16 year anniversary gift bouquet. Unfortunately, a fresh bouquet may not be the best idea for those who want to give a gift that will last a lifetime as natural flowers fade and die in such a short space of time.
Still, it is possible to combine the beauty of a floral gift with the enduring memento of an ornament. A striking genuine rose blossom, picked in its prime and preserved eternally in a luxurious glaze by Eternity Rose's talented craftsmen is the ideal gift for an anniversary occasion. Finished with a lavish 24 karat gold trim and presented in a prestigious leather display case, it is the perfect expression of esteem for your loved ones and will be a focal point of their room for years to come. Available in a choice of colours, it can be purchased in emerald green, the traditional colour linked with the 16th wedding anniversary, or as a pure silver-dipped version which captures the essence of the theme of this anniversary year.