It might be only two years since you stood together and exchanged your wedding vows but that doesn't make this any less of an occasion. We've been celebrating wedding anniversaries for centuries now and a 2nd wedding anniversary is considered very important. The first two years of married life are very important as there is so much to learn about your partner. Things you'd never know until you started living together. When you share the same living space with another person all the little foibles comes to the surface. Seeing as you've made it to your 2nd anniversary we're guessing there weren't too many surprises. If you're wondering what the themes are for 2nd wedding anniversary gifts then keep reading.
A Traditional or modern 2nd anniversary gift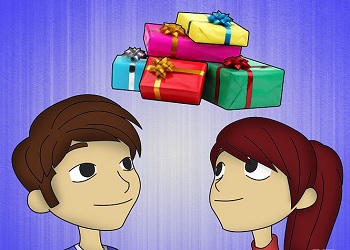 The traditional theme for a 2nd anniversary gift is cotton. It is said that the interwoven fibres in cotton symbolise the bond a couple of 2 years should have. Chinaware is the theme for modern second wedding anniversary gifts, and that's a pretty good choice because the couple may have a few things they still need.
Lily of the valley is the flower associated with a 2nd anniversary, and the gemstone is a garnet. The colour most commonly associated with this special occasion is red – a symbol of everlasting love and passion.
Traditional 2nd year anniversary gifts
Cotton jewellery – You won't be able to find this particular kind of jewellery in a local jewellery store but there are plenty of places to shop online.
Egyptian cotton sheets – Buy the highest quality cotton sheets you can afford and spend the day testing them out.
Cotton robe – You might want to add an extra special touch by putting a voucher in the pocket for your local spa.
Sexy cotton underwear – Boxer shorts for him of course and something elegant and comfortable for her.
Personalized cotton throw – There are online retailers that will add a picture to all kinds of gifts, sheets, pillowcases and t-shirts included.
A bag of cotton wool balls – Not to give as a gift but to turn into something amazing. Take a look online for lots of crafty ideas.
Buy a cotton plant to go in the garden – A very unusual addition for your outdoor space.
A cotton back-pack – Fill it with some cotton towels and some beach clothes with the promise of a weekend away.
Comfy cotton nightwear – Pyjamas can be very sexy, and a 2nd anniversary gift that includes a pair of these each is the perfect excuse to stay in bed all day.

Silver-Dipped Natural Rose
A real rose with a fine coating of pure silver.
The silver finish is bright and lustrous.
The rose is ideal to express your everlasting love.
Price: $179.00

Light-Green Natural Rose
Real light-green rose glazed and trimmed in pure 24k gold.
This rose is ultimate symbol of lasting beauty and romance.
Fast dispatch and express delivery.
Price: $169.00

Gold-Dipped Natural Rose
It perfectly combines the beauty of a natural rose and the majesty of fine 24K gold.
Presented in an exquisite leather case.
It comes with a certificate of authenticity.
Price: $179.00
Modern 2nd wedding anniversary gifts
After two years of being married your marriage should be sturdy and strong, much the same as china, hence the connection. Suitable anniversary gifts might include:
A china plate or plaque – Personalize it with the date of your wedding and your names, or possibly a meaningful message, and this second wedding anniversary gift idea becomes more special.
Bone china tea set or place setting – Afternoon tea or dinner will never be the same.
Book a table at your local Chinese restaurant – Alternatively take a trip to Chinatown in a nearby city.
A porcelain rose – Roses are very popular anniversary gifts but for your second wedding anniversary give your wife one that will be eternal.
A trip to China – If time and finances allow take a vacation to the wondrous country of China.
Are second wedding anniversary gifts essential?
For the first few wedding anniversary years it's really only usual for the couple to exchange gifts, unless that is there is an anniversary party. But even then it's not essential for guests to bring gifts. If you're looking for a gift for your spouse a little bit of effort is required, as you shouldn't just pick a gift you assume they'll like. Selecting the perfect gift for your loved one is a bit of an art, but over the years you should become quite accomplished. Every year is significant when it comes to celebrating your anniversary so you should get a lot of practice.
The timing of the gift exchange is also quite important. The anniversary day is reserved for the couple and friends and family can give their gifts a few days before or after the event. The type of gift is also quite relevant as it has to be something that is meaningful as well as linked to the anniversary gift theme.
Traditional or modern anniversary themes
We've already mentioned that china and cotton are the official themes for second wedding anniversary gifts, but that doesn't mean these are your only options. However, it is good to get some inspiration from the modern and traditional lists because this will mean that every year you can give your partner something different. Making the exchanging of gifts all the more interesting.
If you choose to follow the cotton theme you could take your partner for a camping trip, in a cotton tent of course. What a wonderful time you'll have with the opportunity to explore some of Canada's countryside as well as gaze up at the stars. Alternatively you could have a cotton themed night, with everyone one wearing denim. Or you could buy matching bathrobes, slippers or beach towels.
If you'd prefer to choose something with a modern theme then something made from china is your option. You could add some nicely decorated plates, with the date of your wedding and your names, or you could have them decorated with a photograph from your wedding day. A china vase would be perfect for holding a bouquet of red roses, but if your budget allows why not take a trip to China?
When choosing 2nd year anniversary gifts the cost is not important. Far more meaningful and thoughtful gifts can be found that don't have a huge price tag. A good 2nd anniversary gift has less to do with money and more to do with the thought that's gone into choosing it.